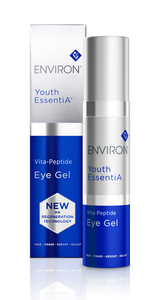 Environ Youth EssentiA Vita-Peptide Eye Gel
The best eye gel. Always great service from the skin nerd
It works!
I love this eye cream and while I know it's expensive, it works! I've repurchased it and will continue to do so. I was wasting money on creams that don't work, this works and it lasts about 3 months.
Environ Youth EssentiA Vita-Peptide Eye Gel
Eye gel
I have been using this product for about 6 months and have noticed subtle improvement in the appearance of the skin around my eyes. I use it alongside the Environ roller so I expect my results are better because of this.
Want to order Environ but aren't a consultation client? Chat with our team between 9AM - 5PM Monday to Friday to discuss Environ, if it's suitable for you and get access to this this product.
Environ Vita Peptide Eye Gel is a very light gel formula which contains a wide array of essential vitamins, antioxidants and peptides which help to reduce the appearance of wrinkles and fine lines around the eye area.
We would never say no to a new ingredient
There has been 1 new ingredient added to Vita Peptide Eye Gel: Optim-Hyal™ which restores optimal cellular hydration by stimulating the skin to naturally synthesise and renew natural HA from within
In only one month, OPTIM HYAL™ smoothes out the appearance of wrinkles, moisturises, and makes the skin more supple & resistant.
Jenn's Nerdie Bit
This eye gel contains plenty of vitamins (A & E) and peptides to get your under-eye area looking fresh. This is the only eye gel I tend to recommend ever. Beauty editors worldwide love it too! You can apply it all over the eye area… except the eyeballs!