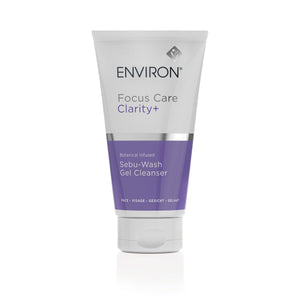 Environ Focus Care Clarity+ Sebu-Wash Gel Cleanser
Environ Focus Care Clarity+ Sebu-Wash Gel Cleanser
Favourite face wash
I have combination skin and use this every night after using my makeup remover. It keeps my breakouts at bay & at one of Skin Nerd consultations it was recommended I could use it as a spot treatment which works really well as well
Great product
This is part of my every day routine, I'd be lost without it! Leaves my face feeling fresh and clean.
Lovely cleanser
Really enjoy using this cleanser. Skin feels clean and fresh, lovely smell of tea tree off it too.
Want to order Environ but aren't a consultation client? Chat with our team between 9AM - 5PM Monday to Friday to discuss Environ, if it's suitable for you and get access to this this product.
Environ Focus Care Clarity+ Sebu-Wash Gel Cleanser is a pleasantly fragranced mild, low foaming cleansing gel containing tea tree oil. 
This cleanser contains:

Tea Tree Leaf Oil: Anti-bacterial & anti-inflammatory, accelerates wound healing  
Salicylic Acid: Gently deep cleanses & mildly exfoliates to decongest the skin
Glycerin: Skin humectant to prevent dehydration
Sarcosine: Reduces the signs of oiliness in 28 days
It gently removes excess surface oils and environmental debris without drying out your skin so retains its natural acid balance. This cleanser is suitable for oily, blemish-prone and congested skin.
*Warning: This product contains Salicylic Acid as a keratolytic agent. Avoid using this product if any known allergies to the ingredients exist. Avoid if allergic to Aspirin.
*Warning: This product contains a Beta Hydroxy Acid (BHA) that may increase your skin's sensitivity to the sun and particularly the possibility of sunburn. Use a sunscreen, wear protective clothing, and limit sun exposure while using this product and for a week afterwards.
How to use:
Apply a chickpea-sized amount of this gel into the palms of your hands and lather into a foam before washing the face and rinse thoroughly with tepid water and your Cleanse Off Mitt. Follow with your serums and other products. 
Jenn's Nerdie Bit
Salicylic acid is the key to assisting with congestion, reducing the size of spots and dissolving debris within the pore. You need it in your life if you're going to wave goodbye to Franks, the type of annoying spot that needs a name.