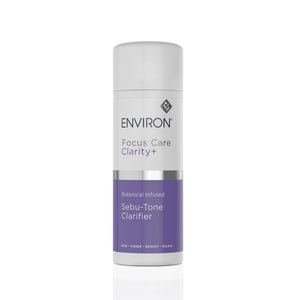 Want to order Environ but aren't a consultation client? Chat with our team between 9AM - 5PM Monday to Friday to discuss Environ, if it's suitable for you and get access to this this product.
Environ Focus Care Clarity+ Sebu-Tone Clarifier (100ml) is a clarifying toner that assists in eliminating congestion and excess oil with a formula that includes clarifying exfoliators, sebum regulators and botanicals.

With a combination of acids, this is ideal to help soothe, encourage exfoliation and even skin tone and complexion.

WHO IT'S FOR:

Hoomans with oily, congested skin

HERO INGREDIENTS:

Lactic acid: exfoliating AHA (alpha-hydroxy acid), helps dead skin cells to slough off
Salicylic acid: exfoliating BHA (beta-hydroxy acid), helps clear debris in pore
Syringa vulgaris: lilac extract, works to balance sebum, reduce blemishes & control redness
Tea tree leaf oil: anti-bacterial, anti-inflammatory botanical extract
HOW TO USE:
After cleansing in the PM, apply with finger tips, cotton pad or your Cleanse Off Mitt. SPF is even more essential when using salicylic acid. Begin by using once or twice per week.
Not suitable for use during pregnancy