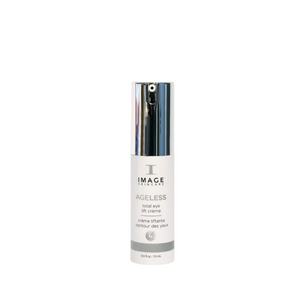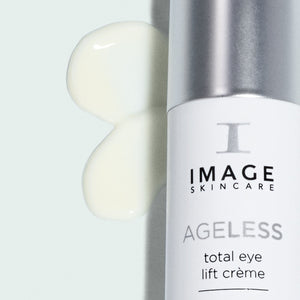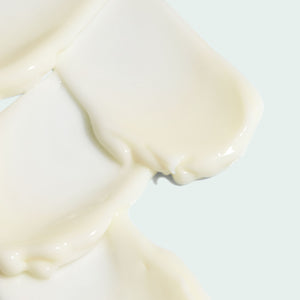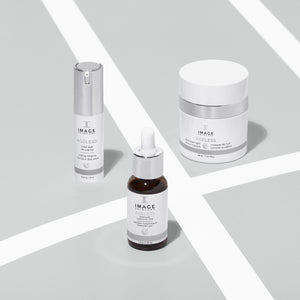 Blend of Glycolic acid and Retinol, Polypeptide Blend: Hespieidin methyl chalcone, Steareth-20-Dipeptide-2-Palmitoyl. Apple Malus domestica fruit cell culture extract, Imperata cylindrica root extract, Algae extract , Ascorbyl palmitate, Glycolic acid, Sodium hyaluronate, Green tea (Camellia sinensis leaf extract), Cucumis sativus (Cucumber fruit extract), Grape seed (Vitis vinifera) extract, Gotu kola (Centella asiatica) extract, Coneflower (Echinacea purpurea) extract.
For an accurate listing of ingredients in each product, please refer to your product packaging.
Good name if only it did what title said!!
Dried out around my eyes. Couldn't see any improvement. Not at all hydrating.
Hi Deirdre - sorry to hear you did not love your purchased product. We'd be happy to offer you an alternative recommendation if you'd like to get in touch with us. Feel free to reach out to hello@theskinnerd.com.
IMAGE Ageless Total Eye Lift Crème (15ml)
Fast delivery. Great product
Delivery was next day. Amazing! I love the eyecream. Also some lovely samples were included that I'll definitely purchase. Overall a great experience
IMAGE Ageless Total Eye Lift Crème (15ml)
Great eye cream
I am using this now more than 8 weeks and so happy with this product. I had creepy upper lids and fine lines under the eyes. This product helped a lot. Moisturizing and making a great job.
This luxurious lifting eye crème resurfaces and visibly reduces the appearance of fine lines. The retinyl (retinol-derivative) glycolic blend tightens the skin, while chamomile, green tea and coneflower soothe tired and dehydrated eyes.
This eye crème contains:
Glycolic acid and Retinol to make skin appear tighter
Polypeptide blend, to help build collagen and elastin in the skin
Sodium hyaluronate to plump skin


The peptide blend reduces inflammatory processes, and this creme also contains potent antioxidants.

How to use: 
Spread a rice-grain sized amount of product to the area around both eyes as part of your night-time routine.

Paraben free!