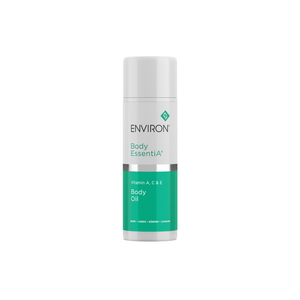 Environ A, C & E Body Oil
ACE Body Oil
Really like this product. Feels so lightweight on the skin.
Makes me feel at home in my skin
My skin feels, especially in the winter months, very dry and tight and this wonderful body oil give my skin all it needs so I feel comfy and nourished. It gets 4 stars from me and not 5 just because of its oily texture, which can get a bit messy during application.
Great products and advice. Loving using them each day. Skin feels loved and nourished
Holy Grail
If you told me I was being shipped off to a deserted island and I could only take one skincare item, this would be it. This has been a staple in my skincare routine for almost 4 years now. I did dry out when I first used it but stick with it and you'll never look back. The bottle lasts me a long time too.
Want to order Environ but aren't a consultation client? Chat with our team between 9AM - 5PM Monday to Friday to discuss Environ, if it's suitable for you and get access to this this product.
This Body Oil is a very light, nourishing oil which contains essential vitamins A, C and E and is used for maximum antioxidant protection.
This oil contains:
Retinyl acetate (a form of vitamin A) to repair and protect skin
Antioxidants C and E to protect skin from environmental damage
Jojoba oil to nourish and condition the skin.
This oil absorbs quickly into the skin and does not leave the skin feeling oily at all. Gives skin a feeling of softness and hydration. 
Particularly suited to dry or environmentally damaged skin.