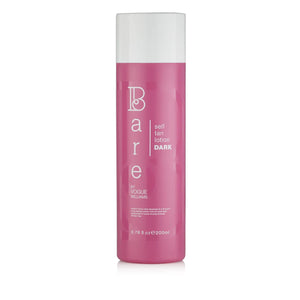 Bare by Vogue Self Tan Lotion – Dark

Recommended for medium to dark skin tones for a rich radiant mid-tone tan. Our luxuriously rich sunless tanning lotions not only deliver a flawless natural-looking colour in just 4 – 8 hours but also leave your skin feeling nourished and rejuvenated. Perfect for do-it-yourself tanning sessions at home, they ensure a sensational sun-kissed tan lasting for 5 – 7 days.
Natural results and even fade 
Fruit fragrance
Hydrating, moisturising & firming
Fast development time (4 – 6 hours)
Smooth, streak-free application
Pregnancy-safe
BARE EXPERT TIP: Moisturise all those difficult (dry) areas like your hands, feet, elbows, and knees to ensure a natural even tan.