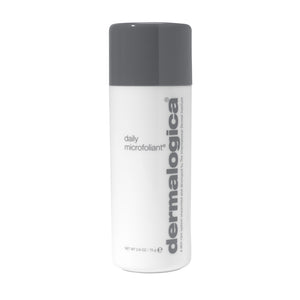 Dermalogica Daily Microfoliant
Love this product and so does my skin. I use it daily. Also love using Skin Nerd own products.
Dermalogica Daily Microfoliant
Dermalogica Daily Microfoliant
Dermalogica Daily Microfoliant is a gentle, daily use exfoliating powder for all skin conditions. Unique Rice-based powder formula activates upon contact with water, releasing Papain, Salicylic Acid and Rice Enzymes that micro-exfoliate dead cells, instantly leaving skin smoother and brighter. Our unique Skin Brightening Complex helps to balance uneven skin pigmentation while a super-soothing blend of Green Tea, Ginkgo and Colloidal Oatmeal helps to calm the skin, leaving it extraordinarily clear and refreshed. Gentle enough to use on a daily basis. Not recommended for users of medically-prescribed exfoliation products.
Ideal for...
All skins
Sensitive/reactive skins 
Mature skin
Jenn's Nerdie Bit 
This is calming, brightening AND exfoliating. Pop it in with your regular cleanser to supercharge it or use it on its own after cleansing. 
 Vegan-friendly