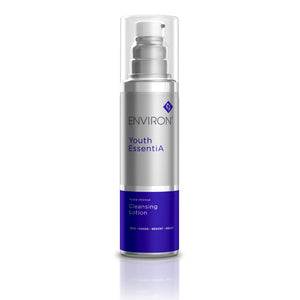 Environ YouthEssentiA Hydra-Intense Cleansing Lotion
Fab Cleanser
Love this cleanser. Nicest I have used in a long time and way prefer it to the original mild cleansing lotion. Especially good for the colder months.
Environ YouthEssentia
I have very sensitive skin around my eyes and it's the only cleanser I can use in order to keep my skin from becoming red and irritated. It really is a life saver. I was disappointed in the amount of packaging used to send it though.
Environ YouthEssentiA Hydra-Intense Cleansing Lotion
Excellent product
Delighted I purchased this product. I've seen a huge improvement in my skin and I find the wash so gentle on my skin!
Want to order Environ but aren't a consultation client? Chat with our team between 9AM - 5PM Monday to Friday to discuss Environ, if it's suitable for you and get access to this this product.
The Environ YouthEssentiA® Hydra-Intense Cleansing Lotion is suitable to all skin types for removing makeup and other impurities. 
This cleanser contains:
Olive oil esters to maintain skin barrier
Hydrolyzed oats - to protect and enhance skin barrier protection
Jojoba seed oil to improve skin hydration
This cleanser is perfect for maintaining the pH balance of skin and for helping to reduce redness and improve hydration. 
It's suitable for all hoomans to use!
How to use:

Use morning and evening after pre-cleansing, and remove with warm water before applying your serums!