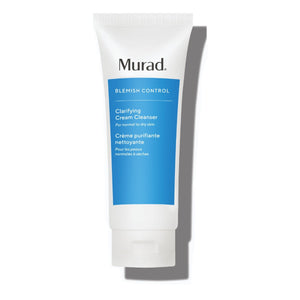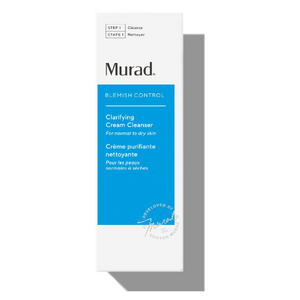 Murad Blemish Control Clarifying Cream Cleanser
Love love love
Loving this. I don't get blemishes anymore really as my skin is drying to normal/slightly dehydrated. I did wonder why this was recommended to me with my concerns but OMG the glow I have when I use it. I love it and will not be without it now for the few nights a week I use it. A must for me!
Murad Blemish Control Clarifying Cream Cleanser
Murad Blemish Control Clarifying Cream Cleanser
I love this cleanser. Treats blemishes and spots but also mild enough to use daily and not dry out your skin. Good level of SA if like me you find other cleansers to harsh
Murad Blemish Control Clarifying Cream Cleanser provides gentle blemish medication to the skin which works continuously throughout the day while helping smooth out fine lines and wrinkles. Skin is blemish-free and more youthful. This cleanser is a creamy, sulphate-free silk texture, perfect for normal or dehydrated skin - non-stripping. 
Clinically-proven to treat breakouts up to 8 hours after rinsing off.
Contains: 

Encapsulated salicylic acid (0.5%): oil-soluble exfoliating acid that works both immediately and over time (even when rinsed off) for maximum benefits 
Hyaluronic acid: hydrator 

Amino acid blend: mimic's skin natural moisturising factors for balance and moisture retention 
Sesame seed & fruit extracts: helps control shine and soothe skin 
Perfect for use every 2 or 3 nights, or as recommended by your Nerd or Nerdette, alongside a nourishing mild cleanser. 
How to use:
After pre-cleansing, apply to wet skin, gently massaging to a lather, covering the entire face. Rinse with water.