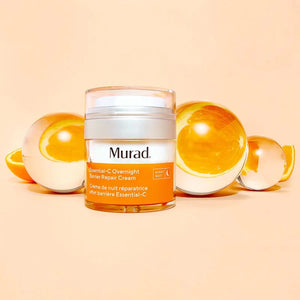 Reset Your Skin's Barrier While You Sleep Snap Back from a Day's Worth of Damage and Dryness.
What's harming your skin?
Every day, your skin is damaged by "urban pollution"— indoor and outdoor environmental aggressors and free radicals from the sun and airborne toxins. This damage weakens your skin and can lead to signs of premature aging including dryness, dullness and rough texture.
How to use: 1. Cleanse with Essential-C Cleanser. Rinse and pat dry. 2. Massage Vita-C Glycolic Serum to face, neck and chest.3. Massage Essential-C Overnight Barrier Repair Cream over face, neck, and chest.
For all skin types
Essential-C Overnight Barrier Repair is our melt-into-skin moisturizer that helps boost skin's resiliency to create a more effective barrier against airborne pollutants.
Sustainability: This brand is certified Cruelty Free by PETA, therefore has committed never to conduct, commission, pay for, or allow tests on animals at any phase of development, for both ingredients and final products.