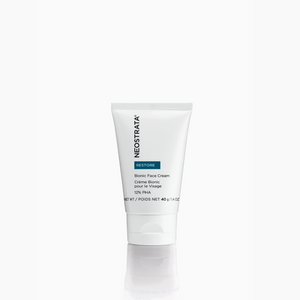 Neostrata Restore Bionic Face Cream
Excellent service and product
NEOSTRATA BIONIC CREAM
I REALLY LIKE THIS CREAM AND I HAVE USED IT FOR A LONG TIME MAINLY IN WINTER BUT SOMETIMES WHEN MY SKIN IS SENSITIVE I FIND IT REALLY ADDS COMFORT AND MOISTURE WITHOUT CAUSING ANY IRRITATION, I WOULD NOT BE WITHOUT IT
Neostrata Restore Bionic Face Cream
Bionic face cream
Love this product, perfect for anyone with dry sensitive skin, would definitely recommend
Neostrata Restore Bionic Face Cream (40g) is an emollient face cream with Polyhydroxy Acids designed to moisturise the skin while visibly reducing lines, wrinkles and other signs of photo ageing.
Provides intense hydration and helps soothe and revitalize the look of stressed skin. A rich, soothing emollient designed for dry, sensitive skin. Contains Bionic Acid, a natural humectant that forms a water-binding matrix to help attract moisture to the skin barrier.
Benefits:
Gluconolactone and Lactobionic Acid visibly reduce signs of photoaging
Ideal for post-procedure to help condition skin after superficial peels, microdermabrasion and non-ablative laser treatments
Can be used with topicals such as retinoids that can dry the skin
Revitalises the look of stressed skin
Contains:
8% gluconolactone - polyhydroxy acid, hydrating, brightening 
4% lactobionic acid - polyhydroxy acid, hydrating, brightening
How to use:
Apply to face and neck twice daily following cleansing.
Fragrance-free, non-comedogenic, non-acnegenic.