6 Questions to Ask Yourself Before Plastic Surgery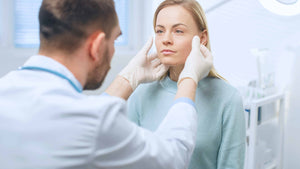 There's no doubt that plastic surgery and tweakments are becoming more commonplace. In fact. research has revealed a huge rise in demand for aesthetic procedures, with an 19.3% overall increase in procedures performed by plastic surgeons in 2021 and 17.5 million non-surgical procedures performed worldwide.*** Despite the uptake of aesthetic procedures becoming mainstream, it is still important to question whether it is right for you personally before taking the plunge. We always suggest you talk your decision through with someone you trust and advise that you consider the following before going ahead: 
Are you healthy enough? 
If cosmetic procedures are what you are looking for, have you started on a healthy skin journey first? Skin health cannot be fixed by cosmetic procedures alone. We believe in keeping skin healthy by adopting an inside, outside and on-top approach. This means considering what you put into your body with food, hydration and supplements, the skincare you use and routines you undertake consistently and protection from the sun all year round. Before considering plastic surgery, you also need to find out if you are healthy enough for it. Pre-surgery tests can include x-rays, blood tests and an electrocardigram (ECG). Always be open and honest about your medical history to allow your plastic surgeon to assess you accurately. Many aesthetic practitioners also carry out a pre-procedure psychological assessment too, which allows you both to address and consider any mental health issues beforehand.  
What are your expectations and how likely is it that the procedure can meet these? 
Before even thinking about going ahead, you need to know if the procedure is the right match for the result you are seeking. What is also crucial is that you make sure that your surgeon and / or injector are fully qualified and registered medically. The Irish Association of Plastic Surgeons (plasticsurgery.ie) only accepts members that are on the Specialist Register in Plastic and Reconstructive Surgery, of the Medical Council and offers useful tips on how to find a reputable surgeon. Don't be afraid to ask your surgeon or injector questions such as how many times they have performed the procedure. Answers to these questions can help to put your mind at ease and allow you to make the correct decision for your circumstances. 
What are the risks?  
Complications are a possibility you must consider before making any decisions about surgery. Complications that can occur include scars, infections and unmet expectations. You also need to weigh up any risks that may come with anti-wrinkle injections and dermal fillers. 'Fillers are medical procedures and although rare, do carry some long-term risks,' warns Dr Mairead Browne. 'Hypersensitivity reactions such as nodules, foreign body granulomas, inflammatory and non-inflammatory granulomas or delayed onset granulomas can appear weeks or months after filler placement and are a long-term risk. Granulomas are a small area of inflammation, and granulomatous reactions tend to have a delayed onset after filler injections, appearing as red papules, plaques or nodules with a firm consistency. * Vascular Occlusion (VO) is a rare but potentially serious complication of HA (Hyaluronic Acid) filler injections. VO happens when filler is inside a vessel, blocking blood flow to the skin. Signs of VO include an area of discoloration with white areas, which becomes bluish or mottled and / or extreme pain post- treatment. Complications of anti-wrinkle injections into the forehead include droopy eyebrows (brow ptosis) **  
What are the alternatives? 
With skin health our top priority at The Skin Nerd, we suggest you look at your complexion from an inside, outside and on-top viewpoint. This means considering whether adapting your diet or additional exercise could give you the results you are looking for before making plans for plastic surgery. Diet, exercise and hydration can all have a huge impact on the skin and in some cases, you just need to give these lifestyle changes a bit more time to work before changing your course of action dramatically.  
Would you do it again? 
Revision surgery, which involves undergoing more surgery to improve upon an earlier surgery is a possibility in plastic surgery. It may be a short procedure but would need to be financed, which may be costly overall.  
What's the recovery period?  
Before going under the knife, you need to consider if you can afford to take adequate time off to recover post-op. Depending on the type of procedure, you may need several weeks off leave to recover and this should be evaluated before committing to the procedure.  
Sources 
*Mohammed H. Abduljabbar, Mohammad A. Basendwh, Complications of hyaluronic acid fillers and their managements,Journal of Dermatology & Dermatologic Surgery, Volume 20, Issue 2, 2016, Pages 100-106.  
** Redaelli A, Forte R. How to avoid brow ptosis after forehead treatment with botulinum toxin. J Cosmet Laser Ther. 2003 Dec;5(3-4):220-2.  
*** www.isaps.org/discover/about-isaps/global-statistics/reports-and-press-releases/.