How does the sun damage our hair?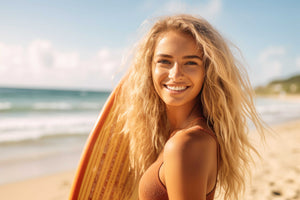 While most of us are aware of the dangers of sun exposure to our skin, how many of us consider the effects to our hair?  
As a brand that prioritises skin health, we hold our hands up and admit that we talk about sun protection a lot – but bear with us, it's for the very best reasons! UV damage from the sun not only causes accelerated ageing but also puts us at risk of skin cancer - the most common cancer in Ireland, with over 13,000 new cases diagnosed every year. When it comes to hair though, we confess that it can often slip under our 'ray-dar' (wink, wink). As hair is non-living, UV rays cannot trigger cancer of the hair shaft itself. This means that protection from ultraviolet radiation is not required for carcinogenic reasons BUT there are still many other reasons you need to protect your hair from the sun.*** 
A lot of sun damage to our hair is visible, even if we are not paying close attention. Exposure to UV radiation damages the hair fibre, with many of these effects manifesting in the hair texture, leaving our locks frizzy, dry and in need of some TLC. To get nerdie, studies have shown that excessive sun exposure is the most frequent cause of hair shaft's structural impairment.* The sun dehydrates hair, leaving it brittle and prone to split ends. UV exposure can also break down the hair strands, weakening them and leading to more breakage and shedding. Additionally, sun damage can come in the form of discoloration, thinning and frizziness. Whilst still in its infancy, more research is being carried out on the effects of photo damage to the hair, with one study finding that UVB radiation has been found responsible for hair protein loss and UVA radiation is responsible for colour changes. Ratnapandian et al. (2004) also found that colour changes were dependent on hair type, being more pronounced for light colored hairs.** 
Although coloured hair has a high chance of fading (as the colour molecules are more delicate and sun exposure will cause them to oxidize,) the pigments in darker hair can filter some UV damage better than light hair pigments. This is clear with hair that is grey or bleached, as it possesses fewer pigment granules than brown hair and is subsequently more susceptible to photoaging.*** When it comes to hair protein loss, damage is more intense on the outer regions of the hair shaft, so people with thick hair have more natural resilience against UV damage than those with fine hair. 
Don't forget the scalp! 
The scalp is an area of skin that is often neglected, but not only can burning the scalp damage the follicle and trigger hair loss, it's another area we do have to consider when we protect ourselves against skin cancer. At the top of your head and facing directly up at the sun, your scalp is especially prone to sunburn and UV damage, which is why about 10% of melanomas occur on the scalp, according to The Skin Cancer Foundation. As you get older and your hair starts to thin, you become further susceptible because you don't have as much natural protection.  
It can also be difficult to detect skin cancer on the scalp, so it is especially important to protect it. Luckily, there are plenty of sunscreen options that are formulated either with the scalp in mind or with ingredients that won't interfere with your hair. 
If all this has you wishing your summer away, fear not. There are some things you can do to keep your locks healthy in the sun, including:  
Wear a hat with UPF (Ultraviolet Protection Factor). This will help to keep your scalp safe from sunburn and your colour from fading. 

 

Invest in a broad-spectrum SPF for your hair and scalp: Treat your scalp as if it were your skin. Cover all exposed areas of the scalp and reapply every hour or two, more often if you are in the water.

 

Look for hair products offering protection against the other damaging effects of the sun and treat hair to a nourishing mask post-holiday to replenish any lost moisture. 

 

Be wary of chlorine and don't forget to rinse your hair out as soon as you are out of the swimming pool to avoid further damage. 

 
 Sources 
*Sebetić K, Sjerobabski Masnec I, Cavka V, Biljan D, Krolo I. UV damage of the hair. Coll Antropol. 2008 Oct;32 Suppl 2:163-5. PMID: 19138021. 
**Santos Nogueira AC, Joekes I. Hair color changes and protein damage caused by ultraviolet radiation. J Photochem Photobiol B. 2004 May 27;74(2-3):109-17. doi: 10.1016/j.jphotobiol.2004.03.001. PMID: 15157906. 
***Draelos ZD. Sunscreens and hair photoprotection. Dermatol Clin. 2006 Jan;24(1):81-4. doi: 10.1016/j.det.2005.08.006. PMID: 16311170.   
****Jeon SY, Pi LQ, Lee WS. Comparison of hair shaft damage after UVA and UVB irradiation. J Cosmet Sci. 2008 Mar-Apr;59(2):151-6. PMID: 18408872.