Taking care of rosacea-prone skin at home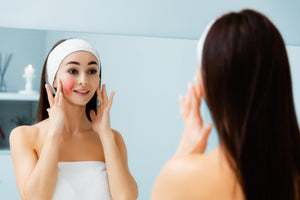 Addressing rosacea at home can seem daunting but following a routine consisting of gentle skin care, daily sun protection, and careful trigger avoidance is essential when it comes to caring for rosacea-prone skin under the management of a GP or dermatologist* Maintaining a close relationship with a dermatologist is beneficial as this professional will be able to help to implement healthy daily habits to boost the likelihood of positive long-term outcomes.** Diet can have a positive impact on rosacea with daily supplementation of omega-3 acids thought to contribute to a reduction in inflammation and the prevention of telangiectasia. In addition, the diet should be easily digestible, alkaline, and rich in products containing fiber, as well as vitamins C, PP, and B2. Lastly, patients with rosacea often suffer from gastrointestinal diseases. Supporting a healthy gut microbiome has also been reported to help to improve general functioning in those with rosacea.** Your dermatologist may recommend the use of dermo-cosmetics in the daily care of skin with rosacea. These combine the properties of a drug and cosmetics to help to prevent and reduce any skin issues. Many people with rosacea experience intolerances to cosmetics; therefore, it is important that the selected cosmetic is intended for rosacea skin or you could risk triggering a flare up.** 
Ingredients that have been said to be beneficial for rosacea-prone skin include: 
Anti-inflammatory ingredients: 'Niacinamide, green tea extract, chamomile, and licorice root extract have anti-inflammatory properties that can help reduce redness and irritation in the skin.,' explains Professor Nicola Ralph of The Institute of Dermatologists, Ireland. Bioflavonoids - which are responsible for the regeneration of blood vessels - also have anti-inflammatory and anti-swelling properties. Research has also shown that the use flavonoid licochalcone can reduce erythema in patients with pre-rosacea and rosacea.  
Barrier repair ingredients: 'Skin barrier boosting ingredients such as ceramides, hyaluronic acid, and essential fatty acids can help to strengthen the skin's natural barrier function, which may be compromised in people with rosacea,' continues Nicola. Using these in daily care increases the elasticity of the skin, thus enhancing its protective functions against external aggressors. 
Sunscreen: As sun exposure is a common trigger for rosacea, it is essential to use a broad-spectrum sunscreen with a minimum SPF of 30 or higher to protect the skin from UV damage.  
Mild exfoliants: 'While harsh scrubs and exfoliants can irritate rosacea-prone skin, gentle exfoliants such as alpha hydroxy acids (AHAs such as lactic acid) can improve skin texture in a more skin respectful manner,' advises Nicola. Acids have the potential to not only improve the functioning of the epidermal barrier, but also effectively smoo.th the surface of the skin. 
Get your vitamins: Vitamin C plays a key role because it has a protective and antioxidant effect, and it neutralises free radicals. Additional advantages include strengthening blood vessels and reducing redness. Vitamin K has a sealing effect on blood vessels and reduces erythema. Vitamin A derivative Retinaldehyde can also help to improve the thickness of the epidermis, reduces erythema and the amount of telangiectasia, and reduces inflammation. In makeup, silicon dioxide is often used, which, thanks to its green color, is used as a preparation that camouflages telangiectasia.** 
What to avoid: 
Any skincare or cosmetics used alongside medical care should be non-irritating and have a low degree of fragrance, alcohol and harsh exfoliant. ** In particular, those with rosacea-prone skin should avoid: 
Soap

 

Skin-drying preparations

 

Witch hazel

 

More potent exfoliating acids such as salicylic acid

 
The frequency of home skincare is also important. The skin should be cleansed every day to remove any potentially triggering molecules that have settled on the skin from the environment. For everyday face care and cleansing, skincare formulas created for sensitive skin containing moisturising and softening ingredients are recommended to avoid disrupting the skin's lipid layer** 
Sources 
* Kang CN, Shah M, Tan J. Rosacea: An Update in Diagnosis, Classification and Management. Skin Therapy Lett. 2021 Jul;26(4):1-8. PMID: 34347259 
** Torok, H.M. Rosacea skin care. Cutis 2000, 66, 14–16.