Under skinvestigation: Ultherapy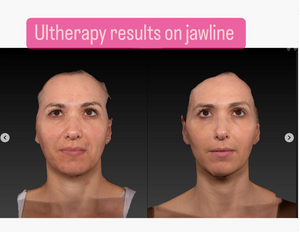 Photo credit: Fabulous Pharmacist and Institute of Dermatologists Ireland
Diet and exercise are key when it comes to tightening and contouring the body but how do we tone the areas that these tried and tested methods do not reach? Although FDA approved back in 2009, Ultherapy has become an increasingly popular non-invasive option with all genders over the past few years. In part thanks to the self-critically brutal Zoom Boom, which forced many of us to spend an increased amount of time cross examining the parameters of our profile and further ignited by social media's thirst for needle free alternatives, numbers of surgical facelift have dropped but interest in ultherapy is rocketing. But what's not to love about a procedure that chisels the jawline and lifts the facial features for a contoured, youthful look? The Mini SKINday Times weighs up the benefits with the help of Dermatologist Professor Caitriona Ryan of The Institute of Dermatologists, Ireland... 
What is it? 
Ultherapy is a sculpting and lifting treatment that uses ultrasound to stimulate the production of fresh collagen and elastin in the skin. 'Ultherapy is one of our most popular treatments here at the Institute of Dermatologists, particularly in those in their 40s-60s when there is a concern about sagging jawlines and neck laxity,' explains Caitriona. 'It is a non-surgical, non-invasive, micro focused ultrasound treatment that stimulates the production of new collagen and elastin deep within the skin. Ultherapy uses precise ultrasound energy to target the deep structural layers of the skin without disrupting the skin's surface. After treatment, the body's tissue repair process stimulates the production of new collagen and elastin, creating a natural lifting effect.' 
How does it work?  
An Ultherapy treatment consists of non-invasive skin tightening and lifting with micro-focused ultrasound and simultaneous high-resolution ultrasound visualisation (MFU-V), an advanced corrective and regenerative treatment to stimulate collagen production. As we age, our skin begins to sag, we can see more lines, dullness, and less hydration. We can tackle lines, dullness and hydration with our home skincare; however, sagging is a trickier dilemma. The ultrasound device can visualise the layers of the skin, and then can fire energy into it, which converts the heat and causes the lower layers of tissue to contract. The beauty of Ultherapy is that it is an ultrasound device so you can visualise the layers of the skin before you fire the energy which is converted into heat which causes contraction of the lower layers of the tissue, and this is what lifts and tightens. The visualisation enables us to know precisely where we are delivering the energy, optimising results, and limiting potential side effects. 
Skin Concerns Treated 
Skin laxity and sagging, drooping brows, sagging under the chin and jawline, loose skin on the neck, fine lines and wrinkles on décolletage. 
Who is it for?  
'A good candidate for Ultherapy is someone with some degree of laxity, to the point of looking, and often feeling, less firm,' explains Caitriona. 'Candidates would be typically those in their 30s and older who have mild to moderate skin laxity. Loose skin under the neck and under the chin, or lines and wrinkles on the chest, are signals a patient might be a candidate. While Ultherapy is not a replacement for a surgical facelift, there are many people who want some facial lifting but are not ready for surgery, whether mentally, physically or financially. There also are younger people who want to "stay ahead of the game," as well as patients wanting an aesthetic maintenance option.' This treatment is also popular with men who have concerns about a saggier jawline and jowls, 'Men are quite conscious of their jawline, and I suppose what happens is when we look in the mirror, we don't necessarily see our own saggy jawlines, but the world looks at us in profile and they see a more saggier jawline. Men also love the idea of machines and are not particularly fond of Botox and fillers, so this is the perfect treatment for a male patient over the age of 40, who has concerns about sagging jawline, feels a little bit jowly, but still wants to look like themselves.' 
Who is it not for?  
Not for those who have cystic acne or severe acne in the area being targeted    
Not for those with open wounds in the area    
Not for those with pacemakers or defibrillators in the area 
Benefits  
Ultherapy lifts, sculpts and tightens skin from the inside out without surgery. 

 

It's the only FDA-approved non-invasive procedure to lift the upper and lower face, under the chin, neck and brow, as well as improve the appearance of lines and wrinkles on the décolletage. 

 

You can get amazing results with Ultherapy with the brow lift. In fact, word in the industry is that 'Botox will get the brow up, Ultherapy will keep the brow up.'

 

Most patients only need one treatment; however, some may benefit from more than one treatment, depending on how much skin laxity they have and their body's own biological response to the ultrasound and the collagen-building process. 

 
Risks 
'Clinical studies have established ultrasound skin tightening as safe and effective in over half a million treatments worldwide,' assures Professor Ryan. Typically, there is no down time and there are few aftereffects of this treatment too. 'There may be slight redness that typically resolves within a few hours following the treatment. Some patients may have slight swelling, tingling or tenderness to the touch, but these are mild and temporary in nature.'  
When do you see results? 
Some patients see an initial effect straight away, but the real results appear over 2−3 months as new collagen works to lift and tighten skin on the neck, chin and brow as well as smooth skin on the chest. Results typically last for a year but using high quality skincare and doing other regular treatments such as skin boosters can help increase longevity. 
The Mini SKINday Times verdict 
If you're seeing sagging on your neck and jawline and are looking for a treatment that will make a visible difference without going under the knife, Ultherapy may be for you. However, do note that the treatment usually comes in at around the €1,000 mark, so financial planning is essential.* We recommend that you only visit highly trained practitioners and ask to see examples of their work during your consultation. 
For more information, please contact The Institute of Dermatologists, Ireland: instituteofdermatologists.ie  
*Prices will vary due to the area(s) being treated and should be confirmed following an initial consultation.