Sensitive Skin: What Causes It?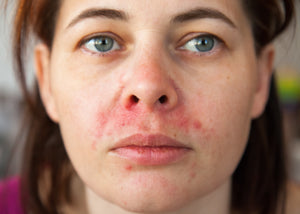 Hoomans with sensitive skin are often left playing a mystifying game of whodunnit. Maybe it's the new acid that's been introduced to your regime, a work deadline you're stressed about, or a particularly windy day that's the culprit for a spell of irritated, inflamed skin.
Whether you're oily, combination or dry, anyone can have sensitive skin. In fact, a survey in the United Kingdom found that a mahoosive 51.4% of women and 38.2% of men considered their skin to be sensitive.
In a nutshell, sensitive skin can be described as reactive. By that we mean sensitive skin has a low tolerance threshold that reacts to many stimuli and can manifest itself as a stinging, burning, or itchy sensation.
What causes sensitive skin?
You might be surprised to hear that sensitive skin is inherited – so you can thank your 'rents. There are many factors which can trigger a flare-up when you've got reactive skin, including skincare and makeup, the weather (come wind or shine), warm and cold temperatures, pollutants, allergens, stress, and hormones.
Those with sensitive skin may also suffer from inflammatory skin conditions such as atopic dermatitis, rosacea, and psoriasis, which all come with their own hurdles. Although noticeably, they all have one thing in common, a compromised skin barrier.
Let's get nerdie! A reaction in sensitive skin is the result of our stratum corneum (aka the outermost layer of skin) becoming permeable when exposed to a trigger. That means our skin barrier is weakened to the point where it allows more substances to penetrate through. These substances can stimulate an inflammatory response in the skin which induces neurotransmitters and irritates our nerve endings.
As more substances enter with a compromised skin barrier, more moisture escapes. In fact, measuring trans epidermal water loss can help to diagnose if a person has sensitive skin. This is when moisture is lost from our skin to the atmosphere while we're sleeping, and key skin functions like cell renewal and cellular repair are being performed. That's why sensitivity and dryness commonly come part and parcel.
Sensitive skin or sensitised?
Say you've always considered your skin to be "normal", but you're suddenly experiencing tightness and itching sensations with visible redness. We'd bet our bottom dollar that's because your skin has become sensitised – it's not sensitive, there's a difference.
Sensitive skin is genetic while sensitised skin can pass as rapidly as it appears. Like those with sensitive skin, sensitisation occurs because your skin barrier has been weakened by a trigger. Perhaps you've gone ham on salicylic acid? Or used vitamin A and glycolic acid in the same evening
Luckily for you, there's light at the end of the tunnel. The skin injury will heal, and inflammation will go down if you use hydrating, barrier-repairing skincare ingredients and ease up on the actives.
Sensitive skin no-go's
The number one offender in our hit list is fragrance. These inessential additives can irritate sensitive skin and cause vasodilation which in turn stimulates an inflammatory response. This can also cause pigmentary issues with prolonged usage. We preach that smells don't change cells, because they don't. Look out for mentions of parfum, perfume, essential oils extract on your skincare and body care products.
It's important that you swot up on your cleansing technique, too. Over cleansing, especially if you're using cleansers with active ingredients, can strip your skin barrier and disrupt the skin's natural pH balance. Naturally, skin scrubs are also the ultimate skin sin where sensitivity is concerned (or any skin type for that matter, ditch the scrubs).
Be as gentle and light as possible when cleansing or applying your topical skincare. That's why we like using a pre-cleansing tool like the Cleanse Off Mitt as its microfibre material won't overstimulate or irritate the skin.
Unfortunately, we're about to trample on your love for hot, steamy showers and baths... but warm temperatures (and super cold temperatures, too!) will trigger a flare-up in sensitive skin. So, bathe and cleanse your skin with tepid water to avoid inflammation. For the sake of irritated skin, we'd steer clear of excessive caffeine, smoking, and alcohol consumption, too.
More nerdiness: active cleansing versus passive cleansing
Soothing ingredients for sensitive skin
Humectants
Replenishing the moisture that's lost through our weakened skin barrier is key to soothing sensitive skin. Enter humectants: moisture-binding substances that attract water molecules from the environment and second layer of our skin (aka dermis) to moisturise the outer most layer of skin (aka epidermis).
Rather impressively, hyaluronic acid is a powerful humectant that can hold up to 1,000x its weight in water. It's a naturally occurring molecule in our body but production begins to slow down in our mid-twenties. The Pestle & Mortar Hyaluronic Acid Serum contains sodium hyaluronate, a low molecular form of hyaluronic acid, which can penetrate deeper because of its smaller size. It also contains glycerin, another humectant, for maximum hydration station.
Alpha-hydroxy acids (aka AHAs) are fabulous humectants with skin sloughing superpowers. However, high concentrations of these exfoliating acids can be irritating to sensitive skin. That's why we'd steer reactive skinned hoomans toward a polyhydroxy acid (aka PHA) which is a gentler form of AHA.
The Skingredients PreProbiotic Cleanse contains polyhydroxy acid to shed dead skin cells and draw moisture toward the epidermis, alongside prebiotics and probiotics which balance the skin's delicate microbiome.
Barrier-repair ingredients
A study that was published in the journal Maturitas in 1998 found that using emollients (moisturisers) on menopausal women with sensitive skin improved skin barrier function. A fortified skin barrier will protect the skin's moisture stores and stop external aggressors from entering and wreaking havoc. That's why we'd recommend a moisturiser that's brimming with barrier-repairing ingredients which strengthen the lipid bilayer, an important part of the skin barrier.
Ceramides are lipids (aka fatty molecules) that are naturally produced by our skin and key components of our lipid bilayer. Like all good things – think collagen, elastin and hyaluronic acid – ceramides deplete as we age. Skingredients Skin Good Fats is a thick buttery balm that contains skin-native lipid ceramide NP to boost skin barrier function and prevent dehydration. The night cream also contains avena sativa (oat) kernel extract which is a hero ingredient for sensitive or irritated skin as it soothes itchiness.
Niacinamide (aka vitamin B3) is an overachieving antioxidant that dually protects skin from free radical damage and stimulates ceramide synthesis to improve skin barrier function. By boosting the production of lipids in the bilayer, niacinamide aids water retention and supports overall skin structure. You'll find niacinamide in Skin Good Fats, as well as the ASAP Skincare Super B Complex. The Super B Complex contains niacinamide to increase ceramide production and hyaluronic acid to replenish moisture in dehydrated skin.
Anti-inflammatory ingredients
Anti-inflammatory ingredients are a must-have if you're a sensitive skinned hooman that often falls victim to red, burning, and tight skin. These calming heroes are effective, incredibly gentle, and won't exacerbate any flare-ups in reactive skin. They work hard to reduce the inflammation caused by external triggers and heal, relieve, and soothe irritated or damaged skin.
The IMAGE Ormedic Balancing Facial Cleanser contains an organic blend of anti-inflammatory ingredients such as aloe vera, green tea extracts, and chamomile extract. Aloe vera speeds up wound healing and is a humectant which draws moisture into the skin, green tea extract is a powerful antioxidant that protects the skin, and chamomile extract which has antibacterial properties. It's great for sensitive skin as it will cleanse without upsetting the skin's natural balance.
Calendula extract is another anti-inflammatory that will calm redness in inflamed skin. The REN Evercalm Global Protection Day Cream contains calendula which aids skin repair, and blackcurrant seed oil and Seabuckthorn berry oil which are rich in omega 3 and omega 7 to smooth the skin.
If you suffer from sensitive skin and would value a little guidance on skincare to use and avoid, we'd love it if you booked an online skin consultation with our expert team of Nerds. Click here to find out more!