Active Cleansing Versus Passive Cleansing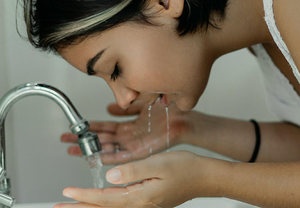 As a Nerd Networker, you are probably aware of a concept we call "active cleansing". Thankfully, this does not mean hopping on a treadmill and trying to cleanse at the same time, but that you have a cleanser that is results-driven and contains active ingredients that exfoliate and provide benefits to your skin.
Due to its activeness, we usually recommend that your active cleanser is used every 2 or 3 nights (or perhaps even nightly, if your Nerd or Nerdette deems it necessary or beneficial for your skin!).
In a truly nerdie, well-rounded, balanced skincare routine, you have both an active cleanser and a passive cleanser. Your passive cleanser serves to cleanse, nourish and balance your skin when you're not using your active cleanser – the other nights and in the morning, and to remove any residue prior to using your active cleanser! It's like a see-saw, a relationship... Like life itself! You can't always take, take, take – you have to give back equally!
Active cleansing versus passive cleansing
Your passive cleanser works mostly to cleanse the skin post pre-cleanse, and can have benefits such as balancing, hydrating and soothing the skin. Your active cleanser, on the other hand, is targeted towards your specific skin concerns and will work as your exfoliator sans grit – we don't adore mechanical exfoliation, as it can irritate the skin, whereas chemical exfoliation with exfoliating cleansers tends to be more respectful to the skin when they are used as advised!
We also recommend using your passive cleanser to further prep your skin so that your active cleanser can work harder without debris or residue getting in its way – so, you will remove makeup and debris with the Cleanse Off Mitt, follow up with your passive cleanser and then finish your cleanse with your active cleanser.
Passive cleansers we adore (for different skins)
For redness, dehydrated skin, dry skin, ageing skin and normal skin
IMAGE Vital C Hydrating Cleanser
- Creamy cleanser with high-potency vitamin C to tackle redness
- Contains vitamin E, potent antioxidant
- Fatty alcohols to help the skin to retain moisture
For all skins, including oily skin, congested skin, dry skin and sensitive skin
Skingredients PreProbiotic Cleanse
- Lightweight creamy lotion with prebiotic-probiotic complex for balance
- With polyhydroxy acid for hydration
- Hydrating glycerin to moisturise skin
For combination, oily and congestion-prone skin
ASAP Skincare Gentle Cleansing Gel
- Lightweight soap-free gel wash with aloe vera to soothe
- With white tea extract for antioxidant protection
- Hydrating glycerin to moisturise skin Active cleansers we adore (for different skins)
For skin with pigmentation, dull skin, ageing skin, dry skin and normal skin
Neostrata Foaming Glycolic Wash
- Foam cleanser with 18% glycolic acid and 2% polyhydroxy acid for intense exfoliation
- Best for normal or dry skin, or oily skin with nothing beyond blackheads
- Not recommended for those experiencing regular inflamed congestion (as glycolic can draw oil up for some congested skins, in our experience) or sensitive skin
For excessively oil and congestion-prone skin
- Wash texture with 2% salicylic acid (highest amount permitted in retail products in the EU) for exfoliation and dissolving sebum and debris
- Best for very oily skin, skin with persistent blackheads, whiteheads, lumps and bumps (and for use on body too)
- Not recommended for those with sensitive skin
For oily skin, or those with ageing skin suffering from congestion
Murad AHA/BHA Exfoliating Cleanser
- Wash texture with a blend of salicylic acid, lactic acid and glycolic acid
- Best for those with combination or oily skin
Does everyone need an active cleanser?
We do recommend active cleansing as the main form of exfoliation in most skincare routines, as it is easier to control the effects as you are removing the exfoliant from your skin rather than leaving it on.
However, for some very sensitive skins, it's possible that you are best to use just a passive cleanser and exfoliate with something even milder such as enzymes, perhaps with the Declare Enzyme Peel which is suitable for even very sensitive skin.
Does "passive" mean a passive cleanser doesn't contain active ingredients?
Not necessarily – we would consider ingredients like prebiotics, probiotics, vitamin C and vitamin A (among others) to be active. However, in this respect, we mean passive as it is more difficult to over-use them.
Over-use of an exfoliating cleanser can lead to over-exfoliation which can disrupt our skin's protective barrier, so take care not to use your active cleanser more than advised!
As always, if you have any questions, pop us an email at consult@theskinnerd.com or book in for a follow-up consultation!