Dewy Skin Skincare: Our Top Nerdie Tricks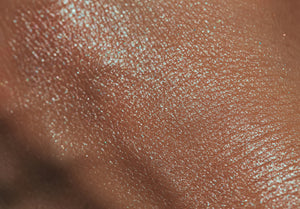 If you're getting dolled up for a night on the tiles (even nerds gotta have fun), you might have a strong idea on the kind of look that you'd like to achieve. Depending on your specific skin concern, it's likely that your desired look might be miles away from how your skin looks day-to-day. If you're oily, you might want to be matte as possible - powder-finish, like velvet made flesh. If you're more dry-skinned, or prone to skin dehydration, then you might want to look plump-skinned and glowy. If you're congested, you will want to look as flawless as possible. Dewy skin skincare is an essential element of your party-season life.
And so - party-season is indeed beckoning, and skincare and makeup are coming sharply into focus. There's plenty of effect which can be gained from a really amazing makeup look - but it's what's underneath that counts, as Shakira would say. 
Matte is over, and dewy skin is most assuredly having a moment. Dewy skin might make you recoil if you are a hooman who deals with oily skin on the daily - or even a hooman whose dry skin seems to make dewiness seemingly unachievable. A lovely thing about our new love for dewy, natural-looking skin is that it encourages really stunning skincare practices - as close to bare-faced beauty as most of us would dare for the office night out (nerds included).  
What Is Glass Skin?
If you're getting into really gorgeous dewy skin skincare, then you've probably stumbled across the glass skin trend. Glass skin is an effect where you try to make your skin as closely resemble a piece of glass, highly polished and definitely smudge-free. It's glowing, it's practically poreless and clarity is at an all-time high. 
It comes originally from Korean beauty, but it become a viral hit. It's dewy skin, amped up, and the key to it is (oh, yes) a really top-notch skincare routine. 
Glass skin became super popular in 2017, when Elle Choi's tweets on the subject gained international attention. Think of how public opinion has swelled towards highlighter in the last few years - it's about creating a super-highlighted look before you've even reached for the sparkle. It's quite toner-heavy, but I think the same effect can be created without necessarily using toner.
How To Perfect Dewy Skin Skincare
The key to dewy skin skincare is all about hydration. We all know to drink lots of water but the products which we apply topically to skin can make a huge difference to our skin's hydration level and if your skin's barrier function isn't working as it should, it won't hold on to this internal hydration well!
So, dewy skin skincare involves a whole lot of hydration products with humectant ingredients - i.e. those which draw moisture to the surface of the skin. 
The important thing to remember about achieving dewy or glass skin is that it's all about correcting skin concerns. This means combatting textural issues, hyperpigmentation or congestion. There are no real quick fixes when it comes to sorting these issues out, but by prioritising it now, your skin will be party-ready before you know it!
Cleansing 
Cleanse, cleanse, cleanse - the original influencer who was credited with making the glass skin trend so internationally famous said that she uses face wipes - horror be - but triples cleanses, with two cleansers after the wipe step. Obviously, my recommendation is to skip the wipes (bin them entirely, never speak of them again) and go straight in with a classic double cleanse. 
Keeping your skin gloriously clean and treated is key to creating a plump, hydrated look, and to dealing with your concerns for an even texture and tone. I suggest you add a probiotic cleanser, such as Biofresh Probiotic Ultra Delicate Cleansing Milk into your routine to make sure you're giving your skin a gentle cleanse in order to lay the foundation for the other steps. Double cleanse correctly and then we can head into the other steps. 
Exfoliation
Making sure your skin is exfoliated properly is key to creating that clear, senselessly smooth look. If you're oil prone, then a salicylic based cleanser is your best pal - but otherwise, using an AHA active cleanser in the evenings would be ideal for brightening and smoothing your skin. 
Dead skin cells can accumulate on the surface of the skin if it isn't exfoliating itself properly. This basically robs you of your glow, as these older skin cells don't reflect light in the same way. 
Why Hydration is Key To Dewy Skin Skincare
Dewy skin skincare is highly focussed on hydration - no surprises there; the clue is in the name. A cheat sheet for dewy skin includes 4 things: hyaluronic acid, ceramides, antioxidants, and Vitamin A. For the cheatiest of cheat sheets, add niacinamide too! 
Hyaluronic Acid
Hyaluronic acid is a humectant - it works to draw in moisture, and when applied topically, will draw moisture to the surface of your skin. It's suitable for all skin types (woo), and works wonders on ageing skin too, as the humectant effect diminishes the appearance of fine lines and wrinkles near instantly.
My pick would be Pestle & Mortar Pure Hyaluronic Serum, suitable for use morning and night - one drop on each cheek and one on your forehead, spread gently-gently across skin with your fingertips for amazing hydrating effects. For a combo of hyaluronic plus antioxidants, I'm biased, but Skingredients Skin Veg is another product that will get the job done.

Ceramide Barrier
If hyaluronic acid is your water, then think of your ceramide as your oil. If you put these two in a glass together, then what happens? The oil caps the water, and this is just what happens with your skin. After applying your water, you need to apply something ceramide-heavy to keep it all in place and to make sure that your skin barrier is strong. IMAGE Vital C Hydrating Repair Creme is a great option for anyone seeking to repair and protect their skin's barrier, or Skingredients Skin Good Fats. 
Antioxidants
These will help to bring down the redness in your skin if you have it and keep it looking fresh. These come in the form of vitamin A, vitamin B, vitamin C ... A great example of this in product form would be something like IMAGE Ormedic Balancing Antioxidant Serum.  
Vitamin A
Vitamin A is particularly useful as it works to compact the cells in your epidermis and make them light reflective - but this is something which happens only with prolonged use. One of my favourite products to recommend would be something lie Environ Skin EssentiA Vita-Antioxidant AVST Moisturiser 1 - although this is only available after a consultation with one of the Nerds or Nerdettes as it packs a punch. If you're interested in beginning AVST, you can join the Nerd Network here.
Skingredients Skin Protein would be an ideal option for anyone seeking to bring more antioxidants into their routine and add more Vitamin A into their skincare routine - two birds, baby. It's suitable both day and night, but not suitable for pregnant hoomans. It will protect your skin from the external stressors which might lead to skin concerns.
Niacinamide 
Niacinamide is your secret agent for providing that party-perfect glorious glow. It's one of the two major forms of vitamin B3, and can bring down inflammation as well as helping to lessen the appearance of fine lines and wrinkles, as well as helping diminish the appearance of enlarged pores (key to that practically poreless look we talked about earlier). Niacinamide is helpful in repairing skin health and remedying a whole host of skin concerns. Our nerdie pick is ASAP Skincare Super B Complex Serum. It really works a treat to bring down inflammation, redness and to make skin appear more hydrated and - dare we say it? - dewy.
So, there you go - a perfect base for your dewy skin skincare. Our advice is to put on a thin layer of mineral foundation - and we think that an oil is nearly better for a glass skin look for a highlighter, such as the REN Vita Mineral Omega 3 Optimum Skin Oil patted onto the areas we want to draw attention to. This would be your cheekbones, centre of the face, cupid's bow and chin. When mattifying with your powder, leave these areas unpowdered or very lightly powdered so as to allow them to catch the light all by themselves.
For a daytime dewy look, you can use your Skingredients Skin Shield, as it creates a dewy, plump finish and sits beautifully on your skin as an ideal primer for makeup. You could also use a jade roller to aid lymphatic drainage and make your skin's surface as smooth and sleek as possible. And of course, the Glass Skin look is ONLY made better by the addition of more hydration - so mist away, it's Spritz O'Clock all day long!