Do I Need To Change My Skincare Routine?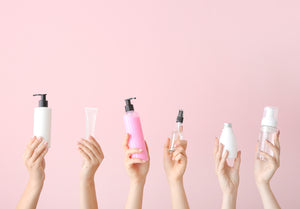 Ch-ch-ch-changes are the name of the game in January, and so you might be asking yourself - do I need to change my skincare routine? Or even, is changing your skincare routine bad for your skin?

We know the drill - it's a fresh new year, new decade, and new version of you. Out with the old, in with the new - and there's rarely a better time of year to focus on your one-and-only - and that's you, fellow hooman.
Although I'm not entirely sold on new year's resolutions, I'm all for advocating whatever works for you! Whether you're taking on good resolutions or deciding once and for all to chuck your bad skincare practises (we're squinting at you, wipe-users), 'tis the season for it. You might feel that it's now or never when it comes to making changes, and I'm here for that too. 
Do I Need To Change My Skincare Routine?
It takes 28 days for a skin cycle to complete, which means that for the most part, it's going to take at least 28 days for you to see changes in your skin after starting to use a product. Depending on the product, it could take even longer - up to 6 weeks for certain products. So whether you're reading this at the fresh edge of the new year, or at midsummer - start now! 
This is the reason why I don't advocate chopping and changing your skincare products or routine too regularly. If you're hoping to create real and lasting changes to your skin, then consistency is key! 
There are certain things which should be consistent at all times - and that's the basics of your routine. Cleansing (preferably double-cleansing), serum application, and SPF to finish your routine are non-negotiable. 
Reasons Why You Should Change Your Skincare Routine
There are exceptions to every rule, and I will admit that there are certain situations in which changing up your skincare routine could be encouraged. 'For the sake of it' is not really a reason which will fly with me though - just FYI. 
Is Your Skincare Not Giving Results?
This is a good reason to reconsider. Maybe you've been trying to gain control over a stubborn issue for a while, and you've finally found the routine which seems to make a difference - until it doesn't. Maybe your concern is a bit better, but it's not quite good enough for you to be satisfied.
Now is a good time of year to investigate the plateau and consider the reasons. Have you perhaps fallen off the wagon when it comes to religiously following your routine? Have you been indulging in habits over Christmas which might have contributed to this plateau effect, or have dulled the effect of your products? Or is it possible that you are expecting too much from your product?
If you can truthfully say that you've been faithful in your skincare ways, but you're still unhappy, then it might be time to consider a change. I would always advocate for you to keep a nerdie skincare diary - that way, you can track honestly what products you use, how your skin is looking and feeling and how it changes over the course of the months. 
Do You Need To Up The Ante?
If you're not getting the results that you skin needs, it could be as simple as your skin needing a bit more. If you're using Environ Skin EssentiA Vita-Antioxidant AVST Moisturiser 1, as recommended by your Nerd or Nerdette, then it may be a simple case of your skin needing the next level of vitamin A. 
AVST 1 contains a low dosage of the vitamin, but the levels increases through the numbers 1-5. If you've been on the same level for a while, it's quite possible that your skin could improve further with a product more active in vitamin A. In order to avoid skin irritation, however, it's important to use these products only as directed by your Nerd or Nerdette.
You're Growing a Mini-Hooman
Yes, this is a pretty good reason to change up your skincare routine. If you're expecting the arrival of a new little bundle of nerd, then congratulations!

There are several products which might form the basis of your everyday skincare routine, but once you're expecting, you are advised to put them away until the mini-me is out! This includes products such as cleansers with high amounts of salicylic acid, and vitamin A-rich serums such as Environ Skin EssentiA Vita-Antioxidant AVST Moisturiser range, of which only AVST 1 and 2 are suitable for application during pregnancy. 
Hormones can have a huge impact on your skin, (with redness becoming more of an issue), so it makes sense that during times of hormonal change, your skin's needs would change, too. You might find yourself more prone to congestion, hormonal breakouts, or even hyper-pigmentation in the form of melasma during pregnancy, which might require different treatment, or might even suggest that you need to use a stronger SPF. 
Have Your Skin's Needs Changed?
While we tend to pump oil in teenage years, as we age, our oil production can slow down, and other skincare concerns can take their place. There's no point treating your skin as if it's still oily as all heck when actually, ageing has made your skin a bit more dry, or you might wish to tackle the beginnings of fine lines, or skin dehydration.
It might be a good opportunity to look at your skin and decide if your skincare routine is truly suitable for the skin that you have now rather than the skin that you think you have.
What Products Should I Start Using?
Your skin is an organ (louder, for the people in the back!), so depending on your stage of life, time of year, or plenty of other reasons, there can be times when a bit of turbo-charging is more absolutely necessary. January is one of these times, when post-Santa skin is making itself known.
Masks 
Adding a mask into your routine can be an excellent way to charge your results in a shorter space of time while still remaining faithful to your skincare routine. 
The IMAGE Ageless Total Overnight Retinol Masque is ideal for giving skin a boost of marine collagen and retinol, a form of vitamin A. It's ideal for wearing overnight, up to three times a week post-cleanse.
If that sounds too bold for you, then you could try the YonKa Gommage Masque. This is gentle enough to be used every single day, if you like, and is super hydrating, gently exfoliating and can contribute to a clear complexion too. It's perfect for this time of year, particularly if you ended up wearing a good deal of fake tan during the party season, as it helps to exfoliate it all away, super gently. 
… Or Try Something New!
Skingredients Skin Veg is an ideal addition to a pre-existing routine - even if we do say so ourselves. It's a penetrant enhancer, which you apply pre-serum. It contains hyaluronic acid as well as plenty of potent vegetable and botanical extracts, and helps the serum which follows to sink more deeply into your skin. It's ideal for boosting your current regime, and giving your serum a bit more oomph. 
IMAGE Clear Cell Clarifying Gel Cleanser
If you're looking to make a change, it might be a great idea to think about adding an active cleanser into your routine once-a-week, or as recommended by your Nerd or Nerdette. This could be an excellent way to spark some changes to your routine, and really get the most out of your pre-existing routine - without chucking the baby out with the bathwater, so to speak. 
An acid exfoliator might say scary, but it can be a mild form of exfoliation. The IMAGE Clear Cell Clarifying Gel Cleanser contains salicylic acid, which helps to dissolve sebum, SPF and other debris which might otherwise block pores and lead to blackheads or congestion. 
So if you're thinking to yourself, 'do I need to change my skincare routine?', think about this. It's a new year and a fresh start - but you don't have to change it all. Sometimes making a little change for the better is a bit more bearable than going full tilt into January at a rush. However, there's no doubt about it - the New Year is a pretty solid excuse for checking in with your skin and making sure it's being taken care of, just as well as it deserves.