Expert Tips for Caring For Men's Skin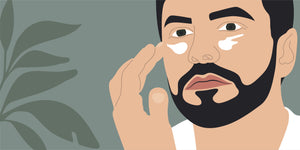 Caring for men's skin isn't too complicated. If you're a hooman who has had your other half nick your skincare then you'll know that all skin pretty much needs the same things! 
All skin needs to be cleansed, treated with vitamins and antioxidants, and protected with SPF from the effects of light! 
Skincare is for all hoomans, but let's think about male skin for a second. Male skin and female skin are not so different – the main differences between them is that male skin tends to be oilier than female skin, and also tends to be a little thicker.  
Despite the fact that – louder for the hoomans in the back! - all skin needs the same nutrients, it can seem more socially acceptable for female hoomans to be 'into' skincare and beauty, rather than their male counterparts. We don't really agree with this – so here's some practical tips for male hoomans to look after their skin.  
The expert tips for caring for men's skin 
1. Cleanse, twice a day
Cleansing your skin is one of the most important things that you can do for your skin. Cleansing with a product helps to remove excess oil, pollution, SPF, and any other product. It is a really simple and effective way to make sure you're looking after your skin as best as possible.  
You should cleanse twice a day – and cleansing with water doens't really cut it. You need product to actually help to cut through the buildup on your skin.  
For AM cleansing, we can suggest a gentle cleanser like Skingredients PreProbiotic Cleanse, packed with pre and probiotics, and polyhydroxy acid for super gentle exfoliation.  
There's also Avène Extremely Gentle Cleanser, if you're a sensitive soul.  
For evening exfoliation, we might suggest Skingredients Sally Cleanse for use up three evenings a week. Since male skin tends to be a little oilier, this can be a good choice as it helps to cut through oil and avoid breakouts before they can begin.  
You could also try Murad AHA/BHA Exfoliating Cleanser, ideal for exfoliation with a combo of lactic, glycolic, and salicylic acid.
2. Cleanse your beard  
Don't forget if you're a beardy hooman – that skin needs some love too! You can cleanse your beard with the same product you use for washing your face.  
Post-wash, it's key to thoroughly dry your beard so that the skin underneath doesn't remain very damp, as this can lead to irritation and flakiness, too. So reach for the towel, beardy folks. 
3. Apply your SPF
We might be blue in the face saying it, but at least it might mean that you're not red in the face. SPF is a necessity all year around. Sun damage is the most common reason for premature ageing of the skin, so it's important to make sure you apply it year-round.  
When it comes to SPF, there's plenty of male skin-friendly options to choose from.  
You might go for IMAGE Prevention + Daily Matte Moisturizer SPF 32 if you're a little oilier, or NeoStrata Sheer Hydration SPF 35, another good option for breakout prone skin to keep you protected and matte. Avéne Very High Protection SPF 50+ Fluid is a nerdie favourite for all hoomans, but particularly adored for the males among us as it's a gentle, protective formula at a reasonable price point. 
5. Be 
dilligent
 about your moles! 
Check your moles and freckles by using the A B C D E technique (asymmetry, border, colour, diameter, evolving) and go to your GP if anything seems out of the ordinary. 
Kennedy & Co
Although we believe that skincare is for all hoomans, Kennedy & Co, Darren Kennedy's own range of skincare is a great choice for the males among us. This skincare is tailored to male skin and makes great gifts as well as a great choice for men looking for a simple, price-friendly skincare option! 
If you have any questions about your skin or feel that you're a little at sea when it comes to your next steps, then we understand. You can book in for a skincare consultation with the Nerd Network and speak to our experts who will create a simple, effective skincare routine for you! 
This is a great option for gifting to the males in your life who would love a solid skincare routine but don't know where to start – or a gift to yourself!