Festival Skincare Tips: Portable Essentials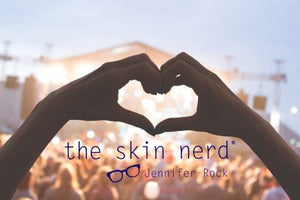 Who doesn't love a good festival? Sleeping beneath the stars in a cheapo tent, getting muck on all of your possessions, ungodly shower queues and people knocking your drink all over you no matter where you turn… I'd personally much prefer a quiet hike or a spa day but plenty of you love getting down and dirty at festivals.
It can be a tricky one figuring out what of your skincare arsenal you should be bringing with you. You need to be prepared for battle because battle you will.
You probably won't have your own sink (unless you're a luxury glamper), the sun will be near inescapable and realistically you will be consuming some alcohol beverages… Nothing wrong with that the odd time but it'll still wreak havoc on your skin. Now, the following advice doesn't have to be applied to festivals – it can also be applied to camping or any other event where you sleep in a field and try to minimise what you're bringing with you.
Sunscreen & Protecting Your Skin From The Sun At Festivals
Sing it with me: "sun pro-tec-tion, sun pro-tec-tion" (to the tune of Rock The Kasbah, for those wondering). Your number one skincare asset at a festival is an easily portable, easily applicable sunscreen for both your face and your body. You're going to want a spray for the body as that makes life so much easier.
My personal favourites are the IMAGE Prevention+ Ultra Sheer Spray SPF 45 (€41.00) and the Avène Spray SPF 50+ (€25.99) – I've used both and I love the non-sticky formulations. If you KNOW that after a few drinks you will be less likely to top up every 2 hours, go for Riemann P20 Seriously Suncare Spray in Factor 50 (€33.30) as it will cling to you for dear life – it honestly does provide all-day protection.
The downfall is that in that it is more chemical, it is more likely to cause heat rash or irritate your skin. There's a whole post on the site dedicated to sunscreen mythbusting with more body sunscreen recommendations if you fancy, too. 
When it comes to your face (and for super handy top-ups of any area of your body), a solid stick sunscreen is key.
I've recently come across the Académie Scientifique De Beauté Sun Stick For Sensitive Areas (€23.00) and I believe it is perfect for bringing anywhere on the go. It is palm-sized so it'll slide into your belt-bag or pocket and go nearly undetectable. You can just slick it across your face and get on with just getting' dowwwn.
If you're worried about ruining your makeup, a powder SPF could be your man. Jane Iredale Powder Me SPF 30 (€49.00) comes with an application sponge so you can hunker down in the corner of the marquee and powder yo' self. Alternatively, you can bribe a pal to apply it for you. Up to you. It comes both as a translucent powder and in a tinted "Golden" shade and is perfect for using on any scalp that your braids expose!
Cleansing Your Skin At Festivals
I won't even make allowances for wipes at festivals. Just never use wipes. Don't use them on your face, don't use them on your body. I am biased as I created an affordable wipes alternative called the Cleanse Off Mitt so that nobody ever need use wipes at all but the Cleanse Off Mitt exists for a reason.
Wipes don't remove makeup or grime – they just displace it around the face so it still sits there all night. They're also full of sensitising fragrances, drying alcohols and other non-skin-friendly ingredients. Take them out of your festival bag NOW.
Naturally, I see the Cleanse Off Mitt (€5.95) as a festival essential – get a 3-pack if you don't want to bother washing them either and just use a bottle of water to wet them in your tent so that you can remove your makeup.
Heck, you can even use them to lazy shower (I refuse to use any of the pre-existing terms for this) – wet them and rub them under your pits and wherever else you want to freshen up. I wouldn't advise you use them on your face after though. 
If there's any time to skip a proper cleanse, it's at a festival so if you want to stop at just removing your makeup, do. However, if you can't go without a thorough cleanse, bring a sample of a cleanser OR a powder cleanser like the IMAGE Iluma Intense Brightening Exfoliating Powder (€41.00). The Iluma powder comes out dry but develops into a mild semi-foam on the face so you can just quickly whip it off with a wet Cleanse Off Mitt. It's absolutely nifty.
Keeping Skin Hydrated At Festivals
So, you're out in the sun, not drinking enough water and perhaps having a few too many G&Ts… You will NEED a way to keep your skin hydrated. Get some hyaluronic onto you, baby. Bring your hyaluronic acid serum as it will plump up your skin, draw moisture into it and make you look like you got a lot more sleep than you did. I am a fan of Pestle & Mortar's Pure Hyaluronic Acid Serum (€43.00) and IMAGE's Ageless Total Pure Hyaluronic Filler (€72.50). 
Another quick, easy and portable way to hydrate the skin is with a Spritz O'Clock. Bring a mini spritz and whip it out as frequently as you can remember. Bonus: it'll be refreshing and it'll perk up your makeup. Avène have a mini version (50ml, €3.99) of their Eau Thermale, as do Yon-ka of their Lotion Yon-ka (50ml, €17.50).
Glamming Up Your Skin For Festivals
A shimmery body oil along the collarbones, cheekbones, décolletage and shins can give you that little bit of "oh, I just popped over to Biarritz before the first act on the main stage". Nuxe have a mini version of their shimmery dry oil, Huile Prodigieuse Or (50ml, €27.00) which would be perfect for this purpose. It's also lovely in the ends of your hair but avoid when you have gotten to total greaseball stage as it will just weigh it down further.
Your One Emergency Product
Bring a tub of Waxperts Wonder Pads (€9.99) as they will be your skin's saviours. Graze? Wonder Pad it. Bug bite? Wonder Pad it. Sneaky mid-festival spot? Wonder Pad it. Salicylic acid is antiseptic so it is super handy to have Waxperts Wonder Pads with you at a festival. You'll find a use for them, I'll tell you that. 
To re-cap, bring your SPF everywhere with you, pack your Cleanse Off Mitts and stay hydrated... and enjoy yourself!