Home Skincare Devices We Approve Of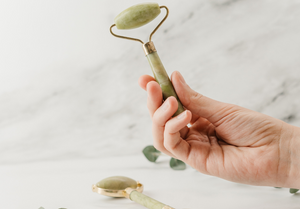 While we're at home, many of us are taking the chance to gaze inwardly and put our houses in order. For anyone who indulges in skincare and beauty treatments with their aestheticians and beauty therapists, getting creative at home really is the name of the game.  
There are plenty of treatments that I believe should be left in the hands of the professionals, and parked until we have a chance to return to our salons. We can make-do until then.  
However, if you've been doing a bit of online shopping (I say a bit – we all know the truth. Am now on first-name terms with my post-hooman, know their star-sign and will probably have them over for family dinner when we can do so), then you might be considering some at-home beauty and skincare solutions.  
We are supportive of plenty of home skincare tools and devices, but it's important to remember that these devices are not stand-ins for a robust skincare routine, packed with nutrients, vitamins, antioxidants and peptides. They can really helpful alongside routines, but they won't provide the raft of skin-positive effects that your holistic routine provides all by themselves.  
Let's explore some of the most popular creations and have a think about them.  
LED masks
From out of the ashes rises LED masks! Who knew that these seemingly originally clunky, now sleek and state-of-the-art masks would become a product easily stowed in your pharmacy to buy?  
Celebrity-loved, and now widely available, these LED masks would seem to the perfect option for inclusion in your home skincare routine.  
What Does LED Light Do For Skin?
LED skin therapy has been used in skin therapy circles for many years. Red light is great for boosting collagen synthesis; blue light is helpful in bacteria and breakout reduction... 
But, Jennifer, I hear you say, blue light! HEV! Light damage to skin!  
LED is a kind of visible light, like HEV, but subjecting your skin to very specific, measured wavelengths of light for short amounts of time is not believed to cause the same damage as the HEV light widespread in our daily lives.  
Blue LED
This blue light can help to manage and tackle acne. Have you heard the old wives tales that sunlight is good for acne? This is true, and false. Sunlight and tanned skin can make acne appear less noticeable, which is part of the reason for this reputation, but blue light has a part to play here, too.  
Blue light is part of the spectrum of sunlight which tans (and ages) your skin. The blue light alone in this spectrum will not damage your skin, but instead directly affects the bacteria propionibacterium acnes, causing cell destruction. Blue light is also anti-inflammatory, which can reduce the swelling which you might associate with aggressive breakouts. 
Red LED
Red LED, at a wavelength of 633 nanometers, helps to activate growth factors which can result in wound healing tissue repair, and can even help to destroy bacteria at a deeper level of the skin than blue light. It can also bring down inflammation and swelling.  
Near 
infra-red
 light
Near infra-red light has the same anti-inflammatory effect that red light does, but also has the effect of slowing down the processes that result in pigmentation changes in the skin. 
When it comes to LED masks, we have used them before as part of facial treatments at Nerd HQ, and when we are able to, we would often recommend visiting your aesthetician, if LED treatments are something which appeals to you. While the home-edition has its own benefits, particularly at the moment, it's hard to measure up to the effectiveness of the treatment in-clinic.  
Here's some of our nerdie picks when it comes to LED devices. 
FOREO UFO Smart Mask Treatment Device 
This device, available from Arnotts, has a range of features, and promises to provide the benefits of a 20 minutes sheet mask in 90 seconds. You can choose from blue, green, and red light to achieve different skin effects, and also use thermo-therapy and cryotherapy options. It provides a host of home-spa benefits in one device. 
This LED mask is created to target the area around the eyes, to prompt the production of collagen and elastin. The area around the eyes can be one of the first areas of the face to show the effects of ageing, and so this mask can help to target this with. It can also create a plumping effect on the skin. It should be used before an eye serum.  
Jade Rolling 
It's a world away from the Cyberpunk-style LED masks, but jade rollers are definitely nerdily approved when it comes to home skincare. Your jade roller (when used correctly) can help to soothe and de-puff skin which might be feeling a bit irritated. You can stick it in the fridge to amplify the cooling effect.  
The best thing about jade rolling is that you can do it twice a day if you like, and it's got the added benefit of feeling absolutely amazing on your skin.  
Besides this, it's super simple to do.  
Start with the small side of your roller, and gently run your roller from the inner corner of your eye to your temples, 3-5 times. After this, roll along your nose outwards. Flip the roller over to the larger side, and roll from the centre of your forehead out and down towards your temples, and then on the other side. Next, roll from the centre of your face, where your cheeks are closest to your nose, outwards and downwards towards your earlobes. From over your upper lip, roll with the small side outwards and downwards on both sides and then use the large side from the centre of your skin along your jawline. You can go all the way down to your collarbone, too! 
Environ Roll CIT 
The Environ Roll CIT is a home-rolling device which can be graduated to during your Environ AVST step-up progression through increasing levels of vitamin A. Home-rolling is suitable after Level 2 of this system.  
The Environ range is only suitable after consultation with the Nerd Network. You can see Ben's top tips about home-rolling here if you're a member of the Nerd Network.  
Home-rolling, when done in a careful manner with the blessing of your Nerd or Nerdette can help to improve the efficacy of your active skincare products as they can be absorbed more deeply into skin as a result of home-rolling.  
The Cleanse Off Mitt 
No tool too humble! The Cleanse Off Mitt is definitely nerdily approved – in fact it's the original nerdie product. It was created to cleanse away makeup, SPF, and pollution with only it and warm water, no product required. It's super helpful when it comes to helping you to double cleanse, and can be used as part of a home facial routine, too.  
It's reusable, almost entirely recyclable, and suitable for even the most delicate of skin.  
Pampering yourself at home has never been handier, particularly with so many companies offering fast delivery, even considering the international situation. There are plenty of good alternatives to the skincare treatments which we might attend our aestheticians for, while we're staying home. I'm looking forward to the day when we can safely return to the care of our aestheticians, but until that day, we are getting creative at home.