How To Care For Irritated Hands From Washing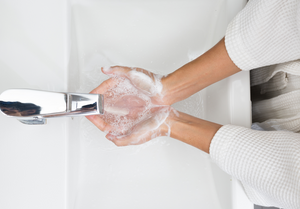 UPDATED 2/4/20
Our focus at the moment is most definitely on keeping ourselves and our loved ones as healthy as possible, and we're working together to make this a reality. This means rapidly reorganising our lives in a way we could little have imagined, even a few weeks ago. 
One of the most important things that we can do at the moment is to be vigilant about washing our hands frequently, and keeping them away from our faces as much as possible.
This is a good thing - but it's definitely affecting how our skin is feeling and responding, and we might need to pay a little more attention to our hard-working hands in the days and weeks ahead! 
What Does Over-Washing Do To Our Hands? 
Have a look at your hands, right now. You're looking? Great. Turn them over and check out the backs of your hands. 
How do they look? If you're feeling the effects of over-washing, you might find that the area on the back of your hands, from your knuckles down towards your wrist is red, irritated, and has a slightly rash-like appearance. You might even find the same thing on the backs of your fingers, if you're more prone to reaction. 
Your skin barrier is composed of a lipid matrix, to speak nerdily. This is a layer of fats and ceramides which keep all the good stuff (hydration, for example) on the inside, and irritants out, if it's functioning correctly. Hand-washing has never been more important than it is now, so we've got to keep it up - but we can care for our hands alongside this. 
When you wash your hands more often than usual, it can disrupt the skin barrier, since soap doesn't differentiate between what is dirt, bacteria, or germs, and what is healthy, skin-friendly oils. Off it all comes. 
Your skin can try to keep up and produce enough oils to keep things ticking along. It's a hard-worker, but if it falls short, it can lead to an impaired barrier or skin irritation - which you might be feeling now. 
Repeated exposure to soap can dry out your skin, and if your skin barrier is already compromised, it can exacerbate the issue. 
If you already suffer from eczema, rosacea, psoriasis, or even just plain-and-simple dry skin, then you are already dealing with a more disrupted skin barrier. This means you might be feeling the effects of over-washing more severely, or have started to find your skin affected before everyone else!
How Over-Washing Might Be Affecting Your Hands
Over-washing your hands can lead to problems if you don't get diligent about your moisturising game. If your skin has become very irritated, it might start to crack, which is not only super painful (ouch), but it can lead to other issues.
It's important to do all that we can to keep our skin barrier strong, with the use of topical products if necessary, to avoid the cracking skin which could cause problems. 
Tips For Caring For Overwashed Hands
When you're in the house, switch to hand-washing rather than hand sanitiser. Hand-washing can often be less harsh on hands (particularly the hands of little ones), and hand-washing is actually more effective than sanitiser, anyway! 
Get a good moisturising regime in place. That means keeping your moisturiser handy near places where you wash your hands, or on your desk if you're working from home, like the Nerdie team! Apply to your clean hands - before you feel you need it, if possible. 
Rescue Tips for Overwashed Hands
I'm not usually a supporter of mechanical exfoliation, but this situation might call for a smidge. Most traditional exfoliators contain large exfoliating particles, but I'm suggesting something a bit different.

As I mentioned when chatting with Dermot and Dave recently, I can find that a little bit of brown sugar mixed with coconut oil can be very effective when it comes to sloughing off the true 'lizard skin'. This mixture is best used post hand-wash, and washed off afterwards, followed by the moisturiser of your choice. 
This is handy (pun intended) as it utilises ingredients you probably have in the kitchen already, without needing to put in an order from the shops. 
Hand Moisturisers - The Nerdie Picks
Avene Cold Cream Concentrated Hand Cream - €9.00
The Avene Cold Cream Concentrated Hand Cream is a rich, fast-absorbing hand cream which is perfect for nourishing and protecting achy, breaky skin which might be feeling dry or chapped hands. 
The effects last through 5 hand-washings, and this product is suitable for both adults and children.

It contains beeswax, to nourish and comfort skin, as well as protecting it from exterior aggressions (such as extra hand-washing). It also contains sucralfate, to repair hands, and as with all products from Avene, this contains the soothing water that Avene is famous for. 
It would be ideal to put on before bed, under a pair of gloves, but it's suitable for all skin, including your face is you are suffering from dry or dehydrated skin. 
This nerdie favourite is fragrance-free, suitable for hoomans with very dry skin, and is also suitable for anyone who has been diagnosed with eczema or psoriasis. 
This lotion is suitable for use on the body, and is super soothing and moisturising, and ideal for treating the hands in times of need. It contains 12% gluconolactone (a very gentle exfoliating acid to help slough off the dead skin cells) as well as lactobionic acid, which gives it its name, which provides the 'bionic' complex, helping to feed your skin. It also contains antioxidant vitamin E to help keep your skin feeling its best, and fight free radicals.
This lotion is light and easily absorbed, and very moisturising, suitable for even super sensitive skin. 
Solgar Omega 3-6-9 Supplements - €25.00
If you want to get a bit creative (or simply can't get your hands on products at the moment), then you might turn to your trusted omega tablets. Excellent for providing internal hydration, these capsules can be handy at times like this. 

Split one open and apply to the irritated areas of your hands for a true boost of moisture and to give that skin barrier a real treat. If you have a chance, apply cling film over the area, too, to truly feel the benefit of the omegas. 
Silcocks Bases
When it comes to things you might have in the house already, this is a great choice. This emollient might be lurking in your cupboards already, and is a good moisturising alternative when all else has failed you. Apply a thin layer in the evening and leave it on overnight, or use it as an alternative to soap. 
This fragrance-free staple is well known to anyone who has suffered from eczema or psoriasis previously, but it's still as relevant now, as ever! 
If you are suffering from psoriasis or eczema and the hand-washing is truly causing detrimental issues to your skin, then it might be time to get in touch with your GP over the phone if possible, or to use the ointments which you already have.
When it comes to helping out your super dry skin, eating good fats and drinking plenty of water are more important now than ever before. We've got to keep washing our hands, but we've got to look after ourselves body and spirit at the same time. 
Keeping our hands in good working order might be a bit of a challenge at the moment, but it's one we are definitely equal to. There's no doubt in my mind that we are going through a very strange and difficult time, but it's amazing to see how everyone has come together, and of course, how the hoomans on the front line have stepped up in extraordinarily challenging situations. 
The list is long, but I'm thinking about all the hoomans working in healthcare, working in essential services to keep the country running, and all the staff working to keep pharmacies running and looking after every one of us. We are applauding with our much-washed hands for you.