How to Include Skingredients In Your Skincare Routine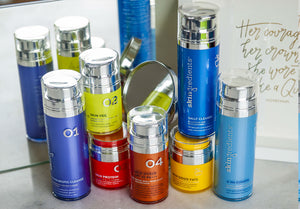 Improvise, adapt, overcome. That is not a quote from Caroline Hirons, Paula Begoun, or Sali Hughes, but from Bear Grylls, and it works well for skincare too. Skin is an ever-evolving, ever-complex thing - it is an organ, after all -  and for this reason, it's not necessarily possible or beneficial for us to apply the same logic and routine to it every day, or every month, or every year. 
It's more complicated than that, and deciding what skincare routine to use depends on what your skin is in need of, season to season. It doesn't have to be that you have a completely different winter routine versus summer routine, but it helps to have a select few items in your skincare toolkit that you can sub in when you need them - like in football. Soccer mom Saturdays have had an effect, it seems. 
Where To Fit Skingredients In Your Skincare Routine
But it's skin, you say. Skin is skin, and my skin is always my skin. Well, if I could interject - technically, it's not always your skin. Skin cycles last approximately 28 days, so your skin is constantly renewing. New skin, who dis?
Considering how often your skin proliferates, it's no surprise that your skin needs can change over time. Seasonal changes can affect our skin, just like life stages. For example, congested skin which you suffered from as a teenager might be a thing of the past by the time you're twenty-three, so why would you use the same products now as you did then? Or equally, your skin before and during pregnancy might have very different needs. 
Perhaps your skincare routine is now worked down to a fine art. Maybe you're a member of Nerd Network and have had the chance to speak to one of our Nerds or Nerdettes - maybe you've listened to our nerdie podcast, or watched one of our FB Lives, or gotten some expert tips from the Nerd Network Blog. Maybe you've done this and managed to work through all the kinks and possible curve-balls which skin can so often throw our way. 
Now, I don't want to toot our big nerdie horn, but we're fairly delighted with the number of messages we receive (keep 'em coming, we love messages) from hoomans wondering how they can work Skingredients into their routine. Some of these folks have great routines (even by my high standards). We never want anyone to ditch their favourites for Skingredients, but we can help you to find where it can fit in your routine.  
So, how can you include Skingredients into your skincare routine? Surprisingly easy. There's loads of ways that Skingredients can complement your routine, whether you're starting from scratch or looking to add to a routine which is already a work of art, you skin Picasso. 

Basic Skincare Routine
Skingredients is designed to be your every day for every hooman skincare regime, start to finish, or rather 0 - 04 (with our Cleanse Off Mitt as the sneaky 00 of the range). We believe that it boasts the essential ingredients that your skin needs to be healthy, protected and hydrated.
If you're looking to start off a routine which you haven't been reliable with before, Skingredients could be heaven-sent. Precleanse with the COM, and then follow it up with Skingredients PreProbiotic Cleanser. To help your gorgeous serums do all their good work, your second step should be a pre-serum. Ahem, ahem - who even has one of them? We do, in Skingredients Skin Veg. This will help your serums sink beautifully into your skin. If you don't have a vitamin A serum already, then 03 Skin Protein is the route to take - it's designed to be an ideal introductory vitamin A product with minimal skin annoyance plus vitamin C, E, antioxidants and a pro-collagen peptide. Finally, top it all off with Skingredients Skin Shield SPF 50 PA+++ to protect your skin from UVA and UVB rays, as well as HEV (high energy visible light rays, otherwise known as the blue light emitted by your computer, tablet and smartphone, as well as the sun!), infrared and pollution - et voila, a balanced meal for your skin. 
How To Include Skingredients In Your Skincare Routine 
If you've already got a routine that's working for you, how does Skingredients fit in? 
Which Cleanser To Use
Consider the cleanser. It's possible that your skin might benefit from alternating your favourite treatment cleanser with a probiotic cleanser in order to restore balance to the microbiome of your skin. Using PreProbiotic Cleanse a few times a week might be the ideal way to introduce some probiotic love to your skin.  
Do you have a cleanser that cleanses but doesn't do a whole lot else? You could introduce Sally Cleanse or AHA Cleanse into your night regime, depending on your skin concern!

If you're prone to excess oil, congestion or breakouts, it could be time to think on our humble Sally. Salicylic acid is the idea ingredient for deeply exfoliating congested skin, and with 2% salicylic acid, Sally Cleanse is a powerful ally in the fight against breakouts. 
If you're concerned about dull or dehydrated skin, you could use AHA Cleanse, packed with lactic acid, which exfoliates and cleanses all in one go. You can use it every night as part of your routine to achieve the desired results. 
Which Serum To Use
If you're looking to try out a new serum, Skingredients Skin Protein could be the right choice. It contains a blend of vitamins A, C, and E, and you know that we love a good ACE combination around here. Vitamin A in particular is a rockstar ingredient of Skin Protein, as it speeds up skin renewal and is completely necessary for healthy skin function. 
If you've been using a vitamin C serum, for example, you could mix these together in your hands before you apply them to your face, to address specific skin concerns. This can be really effective in targeting skin issues - and saves precious time in your routine, too! #winwin
Using Skin Shield SPF
I've found that many people get squeamish when we ask them about their SPF routine, but I stay firm. SPF, every day, no excuses. People usually don't mind giving up their precious time to protect their skin for the blast of UVA and UVB - but they do mind giving a Casper the Friendly Ghost impression after application of their SPF. 
Yes, there can be SPFs out there which are brilliant and protect you from top to toe from UVA and UVB, but sometimes these come with the minor drawback of leaving you looking a little paler. 
Skingredients Skin Shield SPF 50 PA+++ comes with a slightly peach tint so that when its applied to skin, it blends more easily with your skin tone - it's not makeup, but it definitely doesn't leave you looking ghostly. Skin Shield is feels light, creamy, and moisturising - it sinks quickly into the skin and leaves you with a dewy finish, perfect as a priming base for your fave (mineral) makeup products, if you're so inclined.
It's the perfect SPF if you want to avoid photo-flashback, so you're always ready for your close-up. It's a broad spectrum SPF, which means that it protects you from the effects of UVA, UVB, infrared and the pesky HEV rays too. Protection that I'm peachy-keen on.
How Can Skingredients Complement My Routine?
As the season is changing and the spooky season approaches (and the silly season hot on its heels, oh lord), you might find your skin prone to excessive dryness or discomfort. The cold weather can have this effect on skin as it strips the skin's protective barrier. Skingredients Skin Good Fats contains ceramide NP which improves the barrier function of the skin, and soothes red or irritated skin. It would be a good option if you're looking to heal winter-worn skin, and a perfect way to include Skingredients in your skincare routine. 
Maybe you're particularly attached to using a night cream as the final part of your evening skincare regime. If so, Skin Good Fats could be the product you're looking for. It's particularly loved by dehydrated and mature skin for its soothing formulation. 
Or if you're interested in the idea of micro-masking, you might consider Skingredients Sally Cleanse and Skingredients AHA Cleanse. You can apply Sally after cleansing once a week, and leave it on your skin for 2 minutes, before washing it off with the help of a Cleanse Off Mitt - this is a great treatment for those hoomans among us looking to address excess oil or congestion in their skin. You can also micro-mask with AHA Cleanse once a week for supreme exfoliation, but you can leave AHA on your skin for 7 minutes. Check in with your skin and see how it responds before you incorporate these into your routines all the time. As we've said, not all skin is the same. 
Skingredients is all about adapting, improvising and overcoming the skin concerns which might be on your mind - and fitting in with your lifestyle. We're sure Bear Grylls would be proud.

You can get your fill of Skingredients here or from any of our stockists.