How To Pick A Cleanser For YOUR Skin: The Nerdie Guide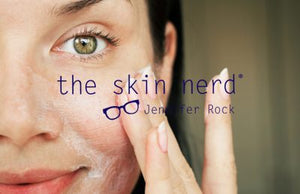 UPDATED: 23/4/20

Finding the right cleanser is actually a very nuanced thing so for the most part, I'm not mad on guides that simplify it down to just skin types and then stick you with some incredibly vague information or some incredibly specific information that might not be pertinent to you as an individual. There's a huge misconception that the cleanser you use should be down to skin type and skin type alone. To a certain extent, it should be down to skin type, yes, but just because you have dry skin now doesn't mean it is genetic. As we know, some people will experience dry skin when they're stressed and it's a bit too easy to confuse dry skin with dehydrated skin. When choosing a cleanser, there are a few different things you should be taking into account:

1) Your Concerns

Are you a city gal exposed to pollution day-in day-out? Maybe you want something that will help to protect you. Are you spot-prone/blackhead-prone but generally not that oily? You're gonna need something that treats spots without being too drying on your skin. Is your skin technically perfect bar a bit of redness? You're looking for a cleanser that can help to diffuse that. Taking these needs into account means a cleanser that you'll actually go "wow – my skin is starting to look gooooood, not just clean".

2) Your Skincare Concerns
Right, if you've had the same type of your skin your whole life with few differences and few concerns, skin type is the main way you should be choosing your cleanser.
Are you oily? Are you actually fully oily, or do you just get a slip'n'slide in your t-zone and on your chin whilst the rest of your skin is normal? Then you're actually combination.
Is your skin always a little bit dry, specifically if you're using a cleanser that isn't made to hydrate your skin in some way or another? When you rinse your face with plain water, does it still feel a bit tight after? Then you're actually dry-skinned.
Did you have normal, hydrated skin before with few complaints but now it feels tight, a bit irritated, you can see some fine lines and you look dull? You've possibly become dehydrated – not so much a skin type as a concern.
Are you reactive/sensitive? I prefer the phrase "reactive skin" to "sensitive skin" because of the difference between sensitivity and sensitisation. Do you remember having mild skin reactions to numerous things when you were little or in your teens?
Have you struggled to find products that don't cause you to become a splotchy mess since then too? You are probably reactive.

3) What YOU Like

You're not going to use a product if you don't like it. I've come across so many clients that KNOW all of the highly active ingredients in a specific product that are making changes to the skin but don't like using the product because it feels heavy on the skin, they don't like the texture, and so on and so forth. If you like a foam but your skin is drier, you have to try to find a product that a) is a foam but b) doesn't strip the skin. Sounds so easy peasy lemon squeezy, doesn't it? Unfortunately, it's hard to find this pairing for some. Now that you know what you're looking for, here are some suggestions from moiself for cleansers that will suit your skin type whilst tackling your concerns:

Normal Skin
Ingredients to look out for: sodium PCA, urea, antioxidants, aloe vera/aloe extract, arvna sativa/oat kernel extract, sodium hyaluronate/hyaluronic acid

You're not too oily, you're not too dry – you're like Goldilocks's third bowl of porridge. If you're not looking to treat any concerns, you can use something that pacifies the skin, protects its barrier and cleans it, like Skingredients PreProbiotic Cleanse.
This cleanser is gentle enough for use by all hoomans. It contains a pre and probiotic complex to help support the natural microbiome of your skin and keep it in good condition. 
If you're willing to spend a bit more for antioxidant protection, you could go for IMAGE Ormedic Balancing Facial Cleanser. It balances your skin's pH, hydrates, moisturises, soothes and contains super potent green tea extract to defend you from the free radical damage that we encounter all day, every day!  
How To Pick A Cleanser For Oily Skin With Minimal Spots/Combination Skin
Ingredients to look out for: salicylic acid (small amounts), tea tree oil (small amounts), glutamic acid, zinc PCA

If you only get one or two spots the odd time and just want to help to regulate oil control, the Avène Mattifying Cleansing Foam is a good shout, as it contains glutamic acid to help regulate how much sebum you're producing whilst not being super strong and overly stripping on the skin.
Environ B-Active Sebuwash (€20.00) is a gentle wash formulation that contains tea tree oil and salicylic acid but is great for daily use. It is created for those who would be spot-prone but it doesn't leave the tight, dry sensation that so many acne cleansers do. 
How To Pick A Cleanser For Spot-Prone & Oily Skin
Ingredients to look out for: salicylic acid (in larger amounts/2%), tea tree oil, kaolin (clay)

Considering congestion can be caused by numerous things, finding the right cleanser for spot-prone skin can be a bit difficult. Some people get spots due to the fact that their skin is dehydrated and thus makes up for it by overproducing oil, for example. The best option for more congested skin is to use a stronger salicylic acid cleanser AND a gentle cleanser like the ones recommended for normal skin, alternating between them. I sound bananas advising people to buy two cleansers but because you're not doubling up and using them at the same time, you won't go through them as quickly as you would one cleanser – it works out at the same price, it's just more of an initial investment.
When it comes to the active, salicylic-fuelled cleanser, I'd usually suggest the IMAGE Clear Cell Clarifying Cleanser which is a gel wash cleanser, great for those who are really oily with inflamed spots.
How To Pick A Cleanser For Dehydrated Skin
Ingredients to look out for: glycerine, phospholipids, sodium PCA, cetearyl alcohol/cetyl alcohol, vitamin E

Dehydrated skin needs care from the inside and to get hydration from other products too. However, keeping it simple and not dehydrating it further is key.
Murad Essential C Cleanser is a nice, gentle, antioxidant-packed wash formulation, lovely for those who want hydration without having to use a cream cleanser or a milk.
If you want a creamy formulation, IMAGE Vital C Hydrating Facial Cleanser is for you – it's also great for mature skin and redness due to the vitamin C in it.  
How To Pick A Cleanser For Skin Prone To Redness/Reactive Skin
Ingredients to look out for: vitamin C (for redness), chamomile extract/oil, glycerine, calendula extract, panthenol, liquorice root extract, soapwort extract 

When it comes to redness and reactive skin, milks and cream cleansers are usually the only option available and they are often exactly what those with redness and heat in their skin want.
REN Evercalm Gentle Cleansing Milk is designed for sensitive skin and is built to soothe, containing omega-rich ingredients that help to back up the skin's own protective barrier.
How To Pick A Cleanser For Dry Skin 
Ingredients to look out for: carrier oils like sunflower seed oil and jojoba oil, hyaluronic acid, cetearyl/cetyl alcohol, vitamin E, squalene, panthenol, aloe vera

With cleansers for dry skin, you're looking for thicker, creamier formulas that will nourish the skin like IMAGE Vital C's Hydrating Facial Cleanser. 
A balm is fab for dry skin as they contain oils and dry skin is usually producing fewer oils itself. I really like the Dermalogica PreCleanse Balm, which is suitable for dry skin, and ideal for removing makeup, too. 
These are just some suggestions to make your life easier, and honestly, as you probably know about me, I believe a consultation with a professional is the key. I've met people who tried basketfuls of cleansers themselves without having a consultation and never found one they loved only for them to have a consultation with us and automatically love their cleanser.
Each separate product in a skincare routine is working to look after one or two things but it's when the products come together to do many different things that good skincare products become a 7-star skincare routine. You may have noticed that I didn't include many acid-based cleansers even though I adore them. and they're usually the main route of exfoliation that I recommend for people. This is because it's difficult to recommend a cleanser for the purpose of exfoliation without knowing more about what's going on with each individual skin... For example, there are gentler AHAs for reactive skin but some sensitive skin folks can't touch acids regardless or people with mature skin would be directed to use a glycolic acid cleanser more often than those who don't.
If you want to speak to a professional skin expert over the internet who can direct you on what cleansers will work best for you and get you the results you are looking for,

check out our online consultation service

.