Our Top 5 Picks To Treat Yourself Or Your Gals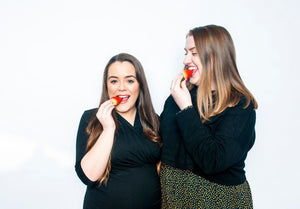 Are you the friend who looks after the others? By which I mean, are you the friend in charge of organising the Big Nights Out, the Cosy Nights In, the Secret Santa and the birthday gifts?
Nothing says Galentine's day like bad puns, good pals, and a whole lot of self-care. Love is love, as far as I can see, and romantic love is absolutely brilliant, but whether it's Palentine's Day, Galentine's Day or something else utterly, we want to make sure you've got all the necessary info to make it the love-fest that you all deserve!
So, without further ado, here's my nerdie guide to how to treat yourself or your gals.
And so, here's a few of my favourite skincare picks for Galentine's Day - some of which have made it into our nerdily-curated Galentine's bundle, and others from our Valentine's Pink Collection. These are all of the bits that we think belong to the day that's in it. And every other day of the year too, frankly.
Galentine's Day Skincare Treats
Caudalie Vinosource Moisturizing Sorbet €24.00
Yes, the pink packaging is a nice nod to the season that's in it, but that's not the only reason that this one made the cut. This gel-to-water moisturiser is super soothing on the skin, and massively hydrating without feeling heavy.
Massage it into damp skin twice daily if you wish - after your serums, but before your SPF in the morning. It's really and truly like a delcious dessert treat for the skin - and well deserved.
Nerdie Bit: It contains potent antioxidants, as well as super calming and soothing chamomile - and few things say self-care like chamomile. It also contains hydrating extracts like grape water, and the patented Vinolevure® - this helps to hold moisture and boost skin immunity, making it ideal for more dry or dehydrated skin.
Seavite Intense Moisture Body Cream €27.50

This luxurious body cream is made by the Doctors Mulrooney, Irish founders of the Seavite brand. Based on their marine scientist father's original formulation for a cream which would soothe their eczema, sisters Katherine and Jane went on to become doctors who specialise in clinical dermatology, and creadte the Seavite range! It's a restorative, reparative cream that can really bring comfort to skin in need of a treat. 
This is ideal for moisturising daily, straight out of the shower. We pay a lot of attention to the skin on our faces, but since the skin is our largest organ, you can bet your bottom dollar that all of it needs attention, care, and pampering, too.
This beauty made it into our Galentine's Bundle - you can find it here, with a host of other treats:
Nerdie Bit: It's ideal for dry, dehydrated and sensitive skin. It's packed full of organic seaweed extracts, ideal for recreating a spa in your own bathroom. It also contains plant oils, vitamin E, and shea butter plump, which all work to soothe and nourish your skin's barrier, soothing irritation. 

IMAGE Ormedic Sheer Pink Lip Enhancement Complex €25.00
Lips are obviously getting a lot of attention this time of year, so it's a good chance for you to pay some attention to your own! 

This lip balm has subtle pink tint to it, giving you just an extra whiff of glamour. It's super hydrating, and instantly improves the appearance of lip contours, as well as diminishing fine lines. 
Proceeds from this product go toward the Care For Skin Foundation, seeking to support anyone who has suffered a skin loss as a result of illness, injury, or genetic abnormalities by providing reconstructive surgery. 
I've already said that Galentine's Day means spreading the love, and this lip balm is a good way to do the same. It's suitable for all lips, to provide comfort, moisturisation and ideal for slipping into your bag, and giving your lip a bit of zip on the go. It's also part of our Galentine's Bundle.
Nerdie Bit: This product also contains an polypeptide anti-ageing complex which helps to support the collagen in your lips, meaning that they will look full and firm.


Pink Cleanse Off Mitt €6.50
Our Cleanse Off Mitt is available in pink for a limited time only, and what better way to celebrate Galentine's Day than by upgrading your cleansing routine in pure pink ambition? 
Our Cleanse Off Mitt is still its glorious self, but with all the power of the pink. Including a pre-cleanse into your routine is one of the best gifts that you can give yourself when it comes to long-term skincare, and the gift of a truly great cleanse. 
Nerdie Bit: Use it by itself with just warm water to cleanse away your makeup, SPF, and the pollution of the day - and then flip it over and use the clean side to cleanse away all your product as part of your double cleanse. 


YonKa Hydra N˚ 1 Masque €47.00
I absolutely adore this product from YonKa. It's ideal for applying before bedtime and leaving it on all night long. It's ideal not only for hydration (as the name suggests) but also for anti-ageing, as it's packed with antioxidants, as well as regenerating vitamin A.
We always say that smells don't change cells, but YonKa is a brand which combines active ingredients with aromatherapy, too - so as well as actively affecting your skin, it does indeed smell very good, too. 
It's a proper treat for the skin, and the ideal way to show those cells some real and true, from the heart, L-O-V-E.  
Treat your skin and also take a hot minute to treat yourself, the hooman behind the skin - on days all about love, be sure to give that love right back to yourself, too! 
This Galentine's Day, we are celebrating by offering you our piece of pink perfection: The Galentine's Bundle!

This bundle contains all you will need to treat your favourite hoomans (or yourself) to a proper night of skincare luxury. You can grab yours here.
If you're looking for a little bit of Valentine's Inspiration, then we've curated just the collection for you. Pink bits and Valentine's treat guaranteed.