Pregnancy Skin Issues And What To Do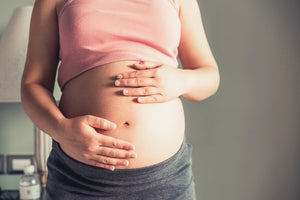 UPDATED: 23rd of April 2020
The skin issues (and general issues) that we encounter during pregnancy can be fairly unique. Think about it - some people crave to chow down on literal coal. At least their gnashers will be stain-free afterwards.

This isn't the first time, nor the second time, we've spoken about pregnancy on The Skin Nerd blog, no, sirree. The thing about it is that I've learned about products that people adore using during pregnancy year on year, and honestly, it's been a while since I myself had my mini.

Thankfully, my friends are popping them out like anything (joking but also not) and in a professional capacity, there's always more to talk about, whether it's melasma or the reality of not getting sleep because there is a massive boulder where your midriff used to be.
Pregnancy Skin Issues 
Melasma
When it comes to pregnancy skin issues, melasma is one spoken about often. Melasma is the official terminology for patches of pigmentation brought along by the hormonal fluctuations that happen during pregnancy. It usually crops up as a tan, brownish patch or series of patches that may look like a butterfly across the forehead, cheek or nose region.


Sometimes it looks even milder, as if just part of your face got a tan. Melasma is not something to worry about too much as many find that it goes away by itself once the hormones have left your body postpartum, but there are steps you can take to help to prevent it or prevent it from worsening.

Wear SPF everyday. You should be doing that anyway but it's particularly important when it comes to pigment, because UV rays may make it worse or help it to stick around for much longer. During pregnancy, your skin tends to be more sensitive so a mineral SPF is usually ideal. We'd usually recommend one of three physical SPFs: Neostrata Sheer Physical Protection SPF 50 PA++++ (€35.50), Murad City Skin Broad Spectrum SPF 50 (€70.00) or Skingredients Skin Shield SPF 50 PA+++ (€42.00).

If you like a super duper lightweight, water-like formulation, the Neostrata SPF will be your favourite. If you want protection from computer light and a slightly matte finish, go for the Murad, and if you want protection from computer light and a dewier (but not shiny) finish, go for the Skingredients product… I would be a huge fan of Skin Shield because I worked with the formulators and can vouch for it. Bonus: it's safe for use on infants over 6 months of age.

Speak to your GP if your melasma does not ease on its own, or if you are worried about it, and introduce a brightening serum that contains ingredients like vitamin C and liquorice root extract to tackle the pigment-causing enzyme in your skin. IMAGE Iluma Intense Brightening Serum (€54.50) is absolutely safe for use during pregnancy and will help to ease any pigmentation you're seeing, as well as providing a bit of hydration and soothing too.

Stretch Marks
Stretch marks are a form of scar - did you know that? As such, like any scar, the earlier you start to look after it, the better. Learn more about this right here.

The moment you see the tell-tale reddish-purply stretch marks is when you want to start lashing on that product.


We heard so many fantastic reviews about Basq products that we felt that we had little choice but to take on a selection to our store. The whole range is multi award-winning, and if their stretch marks products are good enough for Alyssa Milano and Heidi Klum… We'll go ahead and say they're good enough for you.

The Basq Intensive Stretch Mark Butter (€40.00) contains three ingredients clinically-proven to help with the appearance of stretch marks…
Biopeptides to firm and give the skin elasticity
Darutoside, a blend of plant extracts that can trigger your own collagen renewal to reduce the depth and length of stretch mark
Algisium-C, a silica-rich brown algae extract that assists with healing and smoothing the skin
The Basq Resilient Body Stretch Mark Oil (€30.00) is 100% botanical on the other hand, geared towards the prevention and repair of stretch marks. Grapeseed oil and rosehip oil are omega-rich - and feck, do we love omegas - which means that the skin is strengthened and can heal easily. They've also gone and included known skin healer and protector, vitamin E!

Smells don't change cells but the oil is lavender-scented, which you'll undoubtedly need with the stress of carrying a tiny creature within.

Lack of Sleep
Are you asking if sleep is a pregnancy skin issue? Do you think a lack of sleep isn't skin-related? Think again, unfortunateeely. Our skin performs most of its integral processes while we sleep, including getting nutrition, hydrating itself and exfoliating itself. This is why you may look dull and a bit grey if you don't get that full 8 hours.

The funny thing about pregnancy is that you'll want to sleep more than you'll have ever wanted to sleep in your life… But it may not be easy.

Think about why you can't sleep. Is it your dodgy digestion? Are you anxious? Are you just too bloody warm and sweating like a dog in a butcher's?

If it is worry keeping you awake, writing down everything that you're worried about can really help. Things always feel ten times as big when they're in your head and sometimes on paper they look borderline silly.

Try not to eat anything stodgy or dairy-filled right before bed, as this is a recipe for heartburn, and drink your water allowance early in the day so that you're not going to bed with a full bladder.
If sleep is still avoiding you like you avoid that one woman in your yoga class who never stops talking, there are other solutions.  
What to do if you're worried about your skin during pregnancy
Try not to worry about it too much, but do reach out for guidance if your skin has changed much more than you expected. People who have never had acne in their lives may suddenly start to experience breakouts, some start to flush bright red out of nowhere and I've even heard of people reacting to the washing detergent that they've used their whole lives.
That's exactly why we started pregnancy skin consultations, for those who aren't quite sure how to handle the changes in their skin or aren't 100% on what is okay to use while pregnant. We'd love to speak to you, anyway!