7 Summer Skincare Favourites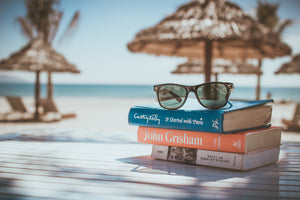 It's beginning to look a lot like SUMMER! Can you even believe it? Better late than never so crack that back garden foot spa (paddling pool) out and get enjoying yourself, hoomans! 
Summer is usually a fairly good time for skin, with beautiful freckles coming out to play and enough humidity to keep skin from becoming patchy and flaky. Wehoo! Like anything, it comes with its own struggles: the possibility of over-exposure to the sun and the pigment that it may bring, more sweat and sebum (oil) production, and heaps of inflammation from the drinks and BBQs that go hand in hand with a bit of good weather. 
There are some newy-new Summer favourites of mine, plus some mainstays that I adore, that will sort your skin right out over the coming months so read on and glow, beaches! 
Available on the Nerdie Store 
From the Doctors and Sisters Mulrooney comes Seavite, a results-driven skincare brand that combines seaweed extract and minerals from the Irish sea with potent antioxidants and hydrating ingredients! Plenty of skin gurus highly rate this serum, but I see it more and more in makeup kits too because it is just delectable to give a bounce and freshness to the skin.
I see this as a very Summery serum due to its lightweight texture but it doesn't compromise on being incredibly nourishing, plumping and healing. With antioxidants vitamin C & E, plus anti-inflammatory ingredients, it helps to protect against the inflammation caused by UV rays and additionally brings it down, battling redness. 
On top of that, it has pentapeptides to boost cell renewal and hyaluronic acid. It's a beauty of a product! 
Available on the Nerdie Store
ANOTHER Irish product on the list – our beauty industry is bloody thriving, isn't it? – with the Skin Formulas Daily Foaming Cleanser. When you're sweating, applying more SPF, and maybe going on city breaks and collecting pollution on your little face, you need a slightly more heavy-duty cleanser.
A mild foam or wash consistency is fab for this and this particular foaming cleanser isn't stripping and is active, as we say, meaning that it has ingredients that will work to help you look brighter, younger and just generally better. 
The AHAs, or alpha-hydroxy acids, inside are naturally-derived, so you get a nice little hint of exfoliation, and it also contains bakuchiol, a very buzzy ingredient that is said to have similar anti-ageing effects to retinol. A feckin' cool cleanser, indeed. 
Be extra vigilant with applying your SPF, as AHAs can make the skin a bit more sensitive to UV rays! This is the type of cleanser you could get away with using day and night but if you're very dry or a tad reactive, maybe avoid it and opt for the Skin Formulas Oil & Milk Cleanser instead! 
IMAGE Skincare Prevention+ Sport Sunscreen Spray SPF 50 (€46.50) 
Available from selected salons nationwide, or at imageskincare.ie
Did you know that excessive sweating can wipe many sunscreens straight off? If you are, like many of Nerd HQ, a real Sweaty Betty, you need a sports SPF formulated to be more resistant to moisture, particularly sweat or you may be re-applying SPF at an annoying pace. 
The IMAGE Skincare Prevention+ Sport Sunscreen Spray is an SPF 50, protects from both UVA and UVB rays that is full of antioxidant protection. I'd say it is more for your body than your face and remember you still need to top up your SPF after 2 hours of being in direct sunlight or being in water! 
Skingredients Skin Veg (€42.00)
Find your nearest stockist here
Look, if you are p'd off that I'm talking about my own product, I am sorry but it is still so exciting! Skin Veg is probably the product from the range that is the most different from anything I would know on the market. We frickin' adore it and the results speak for themselves. 
Skin Veg is a pre-serum that brings a heap of moisture and brightening, healing, anti-inflammatory extracts to the skin whilst prepping your skin for the best absorption of the products that will follow after. 
It is super lightweight and feels like nothing on the skin, and has mildly exfoliating and gentle PHA (polyhydroxy acid), liquorice root extract, green tea extract, lots of fruit and veg extracts plus a peptide that helps to bring about increased production of collagen. 
All in all, it hydrates, provides antioxidant protection, brightens, refreshes and soothes your skin, whilst working towards assisting you in looking younger long-term. It should be used AM + PM as your first product after cleansing! 
Available on the Nerdie Store
Summer is ideal for going makeup-free but of course, not all of us are fully-comfortable with that, so you're probably looking for a foundation that feels very light and can buff into the skin easily. 
Meet Glo Skin Beauty Luminous Liquid Foundation – now, it's technically not mineral, but it is an incredibly skin-friendly makeup. It's enriched with vitamin A, vitamin E, vitamin C and green tea extract for antioxidant protection, it's talc-free and provides the skin with bonus broad spectrum UV protection. 
It feels and looks so beautiful, Team Nerd have been obsessed with it for a while now. It has a dewy, light-reflective finish and can be easily mattified with a rice powder like the Fuschia Mineral Rice Setting Powder (€24.00). 
Available on the Nerdie Store
Gommage as an exfoliating technique involves a paste that gently adheres to dead skin cells which you then rub off. We're usually anti-physical exfoliation but it involves none of the sharp edges involved with scrubs, grits, brushes and gloves and is genuinely gentler than most chemical exfoliants too! 
A summer gommage is ideal as in the Summer, we're wearing more SPF, we're doing city breaks and being brought into areas with more pollution and maybe wearing more fake tan. All of this can lead to a slow down of the skin's own exfoliating process and a build-up of dead skin cells that can steal your skin's radiance and add to congestion. 
Another plus is that a gommage brings that slightly sick satisfaction of seeing the dirt on your face, as your dead skin cells and any traces of makeup can tint the colour of the masque when you're rub-a-dubbing it off. Delicious.
MooGoo SPF 15 Lip Balm 5g (€3.95) 
Available from selected pharmacies nationwide and moogoo.ie 
A cheap and cheerful Summer essential in the form of SPF lip balm. MooGoo are all about making products that you could nearly, or literally could, technically eat. Their SPF 15 lip balm contains physical UV filter zinc oxide, sweet almond oil, shea butter, vitamin E, beeswax and strawberry fruit extract. 
It's a bit thicker than your usual SPF but it's a great way of keeping those smackers protected from UV rays and nice and hydrated too!