The Dos And Donts Of Bridal Skincare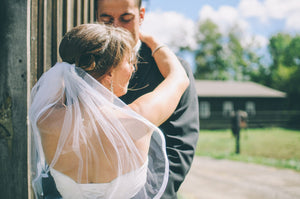 Looking for the top bridal tips for your wedding? Although I have not been a bride myself, I do know plenty who have and as my friend group's resident skin expert, I am wrangled into being closely involved in the process of getting their skin wedding-ready.
I jest, obviously I am always more than happy to help them out! When both my professional and personal life has heavily been about getting skin ready for weddings, I have a lot of advice up my sleeves and today, I will share them with you to take a smidge of stress out of your pre-wedding prep.
Disclaimer: in my humble opinion, the best way to get massive results in a specific time frame is to work closely with a skincare expert. These tips will help but a customised plan for your skin will be able to target all of your skin concerns while simultaneously raising the general health of your skin, which is the ideal scenario!
The dos and donts of pre-wedding skincare
Do give yourself as much time as humanly possible
How does that song go again? "Oooh, you can't hurry skin, no, you just have to wait." - That's it, yes? All jokes aside, Rome wasn't built in a day and the difference between 6 months of home skincare and 6 weeks of home skincare is colossal.
A lot of results-driven products work to correct not only how your skin looks but how it functions, in particular vitamin A, and that's a big task. More time also means you can switch things up if they don't suit your skin incredibly well.
Don't neglect the inside
In the world of Nerd, nutrition is paramount too. If you're putting expensive but effective products on the surface of your skin but not feeding your skin with the quality nutrients it needs from within too, you're only doing half the job. No serum can rival you having enough of the essential vitamins and minerals that your skin needs.
Vitamin C is especially important in the run up to weddings due to its role in our skin's synthesis of collagen, the protein that gives our skin and our blood vessels structure. Collagen is what makes our capillaries strong and less prone to breakage.
Healthy capillaries means a lower chance of redness and red is indeed the first colour that shows up on camera. Horse that vitamin C in for photos that could be between the covers of Vogue.
You can get vitamin C in through your diet from strawberries, peppers, pineapple, oranges, kale and spinach, and you can also supplement it if you're worried that you aren't getting enough. Advanced Nutrition Programme Skin Vit C (€20.00, 60 capsules) contains 500mg of vitamin C per tablet, and Solgar Ester-C Plus (€40.00, 90 capsules) contains 1000mg of non-acidic vitamin C per tablet.
Do introduce hyaluronic acid, if you haven't already 
If this isn't your first time on this blog, you'll know that hyaluronic acid is one of the few loves of my life. That may be a bit dramatic, but it is a real skin saviour because it hydrates like few others. Hyaluronic acid is a humectant, which means that it pulls moisture towards it.
This makes it a non-greasy, supreme source of moisture when you apply it daily, nightly and ever so rightly. Hyaluronic acid also plumps up the skin, helping to reduce the appearance of fine lines and wrinkles. A tip that many don't give but I will, as an experimenter supreme, is to pop a few drops of hyaluronic acid into your body lotion or moisturiser.
This helps to smooth your whole body out, perfect for when you'll be getting a spray tan, and for pesky elephant elbows and ashy knees!
One of our nerdie faves is the Pestle & Mortar Pure Hyaluronic Serum (€43.00)!
Don't go overboard on everything in one fell swoop
It is tempting to lash on exfoliating acids and do home-peels every night in the hopes that this will be like having an at-home facialist. Although it seems that more of the good stuff equals more good, over-exfoliation is actually a devilish skin sin.
When our skin is turning over too quickly, our skin's protective barrier, made up of dead skin cells and lipids, can become impaired which means that it is more prone to irritation, will lose its moisture faster and show fine lines and wrinkles easier due to dehydration.
Ease in slowly and really listen to your skin. This is really why I believe in one-on-one education and guidance in the run-up to weddings, as having a skin expert on-hand to answer your queries will cut the risk of catastrophes such as over-exfoliation… So long as you trust them and listen to them!
Do take extra care in the last month before your wedding
The final month needs to be the most static, not when you make lots of changes and introduce new things. Treatments should be avoided unless they are pure hydration or the therapist performing them knows your skin very well. Cut down on your sugar intake to prevent sugar-related breakouts and do not pop spots as the redness (post-inflammatory hyperpigmentation) may not be gone on time if you do this!
This is when you pick up your body brush and your exfoliating body lotion and start getting that body-ody-ody in order if you haven't already started. I see great results when it comes to the appearance of my cellulite (yes, I have it too, skin hoomans aren't immune) when I'm body-brushing daily so if you have an Angelina Jolie style slit, get brushing, Buster! The day of, use a mild cleanser (not an exfoliating one) and apply calming, hydrating serums.
You may want to link in with your makeup artist on this one, as they might want you to use a stickier serum for makeup longevity, for example. You do not want to antagonise an artiste on a big day, let me tell you that.
Don't spend more time stressing about your skin than anything else
Easier said than done, but your skin should only be taking up 1% of your pre-wedding energy. A good skincare routine does the work itself, and you will only be making minor lifestyle changes between now and then. Make sure you're using products that are effective and well-loved by skin therapists, ones that contain high amounts of the ingredients that we believe your skin needs on a daily basis: vitamin A, topical vitamin C, hyaluronic acid, SPF (obvs), antioxidants and peptides, if lines are a concern of yours.
Read the ingredients that are on the bottle, not in the marketing, and you'll have a better idea of what is worth your precious coins. On your wedding day, you are the same fabulous, loved hooman that you always are. The good skincare is for the purpose of helping you feel confident and gorgeous on the one day when you'll want to. We believe that that is a noble cause if there ever was one.
 Find out more about our online Bridal Bootcamp.