What Is An Active Cleanser?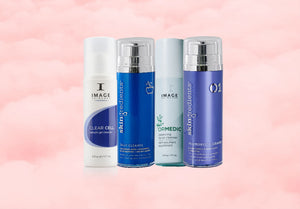 Your skincare can behave much like a hooman in many respects. Consider the humble nerd: some days we're out up and down Bray head, jumping in the sea, or running a marathon like one of our in-house nerd team (g'wan Gary!) - other days we'd need to be surgically removed from the sofa, and budging is just not an option. You've got to balance activity with inactivity. Balance is the nerdie way, and so it goes when it comes to active and inactive cleansing. They're yin and yang - they need each other.
You might be wondering - what is an active cleanser when it's at home? What's an inactive cleanser? And importantly, considering their names - is one better than the other?
Is Cleansing Important?
Cleansing is step one in your skincare routine, the first thing that's going to touch your face, be it in the form of a pre-cleanse with your Cleanse Off Mitt, or with your cleansing product as your double cleanse. It's setting the scene and striking the key note for your routine, and usually doing really important work when it comes to your skincare needs. 
We can't overstate, then, the importance of making sure that you're choosing the correct products in order to approach your skin in a very kindly hooman way, just as you'd approach yourself with the prospect of starting to go to the gym.
What is an Active Cleanser?
An active cleanser is any cleanser which has a physical effect on your skin. Active cleansers cleanse - but they could also target signs or ageing, or redness, or even congestion.
Do I Need An Active Cleanser?

Not all skin is the same, just as not each and every single hooman is the same. And importantly, not all skin is the same
all the time
. I am a devout fan of the active, or treatment cleanser, when used appropriately in a skincare routine. The lovely thing about active cleansers is that you can use them over time to address skin concerns that you might have on an ongoing basis. Alternatively, they can really be the item in your skincare toolkit which you swap in and out depending on the season, or skincare needs (or mood, if you're contrary, like us). 
Active cleansers are a fantastic way to really seriously target any skin concerns which you might have - so yes, I would say that you do need an active cleanser. The thing is, you might already be using an active cleanser, which brings me to my next nerdie point…
Do I Need An Inactive Cleanser?
Just like our bodies post-PT, our skin needs a little bit of inaction every now and then too. This is where inactive cleansers come in. Inactive does not mean that they do nothing - instead we mean inactive cleansers are nourishing, mild, gentle, and suitable for daily use. If you only use an active cleanser throughout your routine, you're risking skin sensitisation. 
I've been a fan of using a probiotic cleanser as an integral part of my routine for years, and in fact, it's the type of cleanser that I use every morning. The point of a probiotic cleanser is that it doesn't simply cleanse away baddies; it actually gives something back, as it reintroduces good bacteria to your skin. Good bacteria is key in keeping the microbiome of your skin healthy. This is why I was insistent on creating Skingredients PreProbiotic Cleanse as part of Skingredients Core 4.

Sometimes it can seem tempting to want to remove things from our skin all the time - wrinkles, blemishes, milia or anything else which crops up, but it can slip our minds to give something back to our huge, hard-working organ. 
Another great option would be something like Gallinée La Culture Foaming Facial Cleanser which is usable every day, and also contains prebiotics and probiotics to preserve and care for the microbiome of your skin, as well as lactic acid as a "postbiotic" to hydrate the skin. 
Topical probiotics, like the ones we get through probiotic cleansers, can help to maintain the skin's barrier, prevent things like premature ageing and can even dial down inflammation. Many of us already take probiotics in supplement form to support our internal organs - so why would we be mean and ignore the biggest organ that we have? (That's skin, in case you were wondering - you might think it's the heart considering how much we loooove skincare, but alas, nope, still the skin). 
How to Include Active and Inactive Cleansers In Your Skincare Routine
The thing is, even though we call them active and inactive cleansers, both are important, and have their moment. Inactive cleansers still do lots of good work for your skin, as you can see, but because they are gentler, they are suitable for use all day, every day. And when we say inactive, we don't mean "does nothing", we mean more nourishing, milder, okay to use twice a day cleansers. 
When it comes to active cleansers, you have to be more choosy about how and when to include them in your routine. 
While I use a probiotic cleanser every morning, in general, I use an active cleanser only on Monday, Wednesday, Friday and Sunday nights. I've found that this is a routine that works really well for my skin, but it's absolutely vital that you listen to your skin and choose a regime which works for you. Just remember, if you've introduced an acid-based cleanser into your routine, you need to be extra vigilant when it comes to wearing your SPF.
If we can colour you cleanse-confused, you could always get some sensational advice from our term of Nerd and Nerdettes, all of whom are cleanser-fiends - seriously, we can't get them to stop talking about cleansing. 
How To Choose An Active Cleanser
I thought a lot about active cleansers while I was creating the Skingredients range. I came down on two options as part of the Mix + Match range (to get started with, anyway). 
If you're prone to congestion or breakouts, then perhaps Skingredients Sally Cleanse would be a good choice. It contains 2% salicylic acid, which dissolves oil and really works its way into the pores in order to clear them of excess oil or blockages, working to make your skin appear clearer. It's a strong formulation, so we recommend only using it every third night, or at the discretion of your Nerd or Nerdette, if you're a member of the Nerd Network.
IMAGE Clear Cell Clarifying Gel Cleanser would also be a good option for the oily hoomans among us, and also contains salicylic acid to tackle blocked pores!
Murad AHA/BHA Exfoliating Cleanser contains salicylic acid, lactic acid, and glycolic acid which combine for powerful exfoliation. If you're seeking a brightening, hydrating cleanser for skin that is "normal" or veers towards being dry or dehydrated, AHA Cleanse might be the move for you. It doesn't penetrate as deeply as Sally, and it can be used every single night as part of your routine - the perfect blend of give and take. Take it slow with A-HA though - we recommend starting by using it once every 3 nights to see how your skin likes it and then moving up to every night when you know you can handle it. 
Now that you can answer the question of what is an active cleanser, it's important to consider what your particular skin needs might be. It might be that you need the inactive cleanser to complement a robust active-cleansing routine, or maybe it's time to get your skincare working for you, and choose an active cleanser as part of your routine. 
Whatever you choose as your cleanser, balance is everything. Skin and hoomans both need a break every now and then - it does them a power of good!  
 Top nerdie picks for mild cleansers to use with your active cleanser: 
Cerave Hydrating Facial Cleanser - don't be misled by the name, this affordable cleanser is absolutely suitable for use on oilier skin types too... With hyaluronic acid and ceramides, it helps to balance out any potential skin-stripping caused by super active cleansers

IMAGE Ormedic Balancing Cleanser - a long-time favourite mild cleanser of ours, and it's about to get rebooted as Ormedic 2.0 with new recyclable packaging and a new formulation - we love this for oilier hoomans
REN Evercalm Gentle Cleansing Milk - Kate, Senior Nerdette & all-round allergic to many things, adores this... Ideal for super sensitive hoomans or drier skins