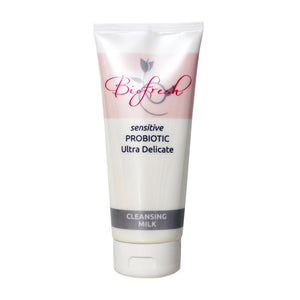 Probiotic Ultra Delicate Cleansing Milk
Amazing gentle non-drying cleanser for dry skin
I have struggled to find a cleanser that works for my skin but this does the trick! I love that it doesn't leave my skin feeling more dry afterwards and is really gentle on the skin. I'm on my 3rd bottle at the moment and intending to replenish my stock!
Probiotic Ultra Delicate Cleansing Milk
Probiotic Ultra Delicate Cleansing Milk
This is a really nice gentle cleanser. Leaves your skin feeling smooth and clean. I have repurchased. I love it.
Cleanser
Find it very good and very gentle of the skin
Special formulation for the effective removal of makeup and impurities leaving your skin soft, glowing and elastic. Satisfies the demands of even the driest and most sensitive skin. This product owes its exceptional effect to a balanced combination of a probiotic of Yogurt and 100% pure essential rose oil.
Jenn's Nerdie Bit 
I adore this cleanser – so gentle and thus suitable for all. Topical probiotics are shown to restore the skin's barrier function and help with dryness, flakiness and congestion.