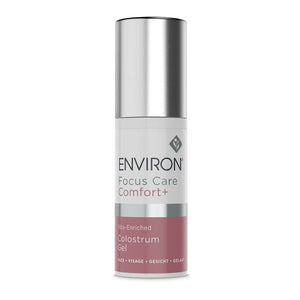 Environ Focus Care Colostrum Gel?
I really don't like the smell of this product and yet the texture is good.
Environ Focus Care Colostrum Gel
Environ Focus Care Colostrum Gel
Unpleasant texture
It's working very well but has an unpleasant tacky feeling as it absorbs
Not seeing much difference yet
Quite sticky and not the best smelling gels, not seeing the difference yet really.
Want to order Environ but aren't a consultation client? Chat with our team between 9AM - 5PM Monday to Friday to discuss Environ, if it's suitable for you and get access to this this product.
Environ's Colostrum Gel contains bovine colostrum, which is incredibly effective for both very sensitive, reactive skin, but also for more mature clients as it helps to strengthen and thicken the skin.
This product contains: 
Colostrum to help growth factors strengthen skin and stimulate collagen production

Cimicifuga Racemosa Root Extract to improve the appearance of lax skin or pallor

Vitamins C and E for antioxidant protection
You should use your Colostrum Gel within 12 weeks due to the nature of the ingredients. We recommend that you purchase with intent to use immediately as Environ produce some of their products as per demand and Colostrum has a shorter shelf life. 
Jenn's Nerdie Bit 
Healing and repair work galore! You may know colostrum as the pre-milk substance. It is packed full of antibodies and has immunity building properties. It also gives the skin growth factors so it is ideal for anti-ageing, scarring and general skin health!
It is the most healing ingredient I've personally come across, that's why it is important for babies. It is suitable for those who are lactose intolerant as it is not milk.
Top tip: mix it in with your AVST to skip a step and for a pleasant texture! 
You should apply 1-2 pumps of Colostrum Gel in AM & PM.