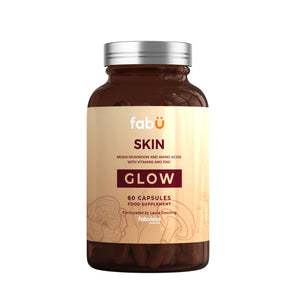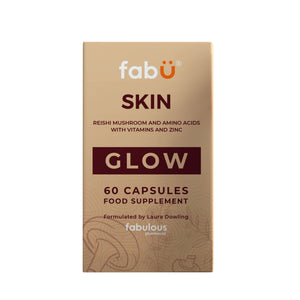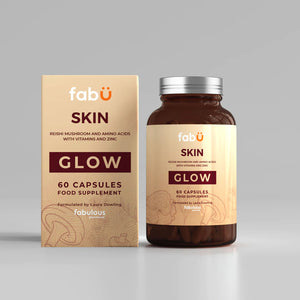 Description
fabÜ SKIN GLOW is based on the edible mushroom Reishi, blended with vitamins, amino acids and Zinc, tailored. Supports normal collagen formation, skin function, cell division and protects skin cells from oxidative stress* *Vitamin C contributes to normal collagen formation for the normal function of skin. *Vitamin A and vitamin B3 contribute to the maintenance of normal skin. *Vitamin E and zinc contribute to the protection of cells from oxidative stress. *Vitamin D has a role in the process of cell division.
Cautions
Do not exceed the recommended daily intake. If you are taking any medications, have any pre-existing medical condition or are breastfeeding, consult your healthcare professional before use. Not to be used in pregnancy.
 Directions for use
Take two capsules daily with cool or tepid water. Food supplements should not be used as a substitute for a balanced diet and healthy lifestyle.
*Please note - this blend needs to be used for 5-6 weeks consistently to see the benefits due to skin turnover rate and the ability for amino acids to help the body build its own collagen. It will take up to 3 months to see the benefits for hair.