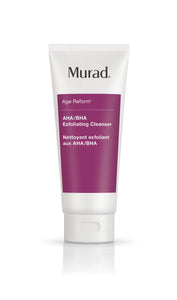 Amazing product
This product is fantastic. I've suffered with Acne for almost 10 years and using this twice a week beside the clarifying cream cleaner has finally managed to clear and most importantly maintain my skin in good health! Would definitely recommend, leaves your skin feeling fresh and super soft without drying it out!
Love it
Used it before and I will use the MURAD AHA/BHA cleanser forever! I found the Skin Nerd Website to be great and very easy to use and the delivery was very quick. I will definitley be using the Skin Nerd website again to get my skincare.
A little goes a long way
This is a fabulous product but a little definitely goes a long way. Using it twice a week my skin feels amazing and has a lovely glow
This intensive cleanser polishes away dullness and impurities with three exfoliating agents Salicylic Acid, Lactic Acid, and Glycolic Acid and Jojoba beads revealing a smoother, younger-looking complexion.