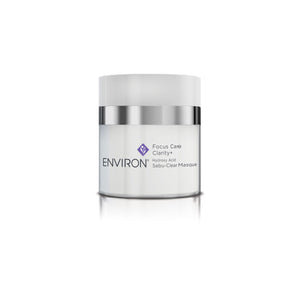 Love it!
One of the best masques for stubborn congestion,yet doesn't dry out the skin.. I love it!
I could see a difference after the first use! I'm very happy with it.
Smells and feels lovely
Only new to face masques but this is lovely.
So far so good!
Too early to see results yet but smells powerful
I've only been using the masque a few weeks but I find it will has helped with those stubborn breakouts and it smells devine. So easy to apply and not messy. Definitely recommend.
Want to order Environ but aren't a consultation client? Chat with our team between 9AM - 5PM Monday to Friday to discuss Environ, if it's suitable for you and get access to this this product.
The Environ Focus Care Clarity+ Hydroxy Acid Sebu-Clear Masque has a long name but a longer list of benefits! It is a creamy, low pH creamy mask that assists in clearing the appearance of existing breakouts with a combination of exfoliating acids, leaving the skin looking visibly healthier and smoother. 
Contains: 
Lactic acid: helps the skin's own exfoliation process by allowing dead skin cells to slough off easier, whilst assisting in hydration due to its humectant (water-binding) properties 
Salicylic acid: helps the skin's own exfoliation process, whilst penetrating pores and hair follicles to dissolve debris within them, reducing blockages and acne flare-ups 
Tea tree oil: naturally anti-bacterial & anti-inflammatory, accelerates wound healing 

The air-sealed pump dispenser means that your mask will not become less effective, or compromised by bacteria, due to exposure to air or light and this fantastic masque comes with a free brush too. 
How to use:
Apply an even layer across affected areas after cleansing (and spritzing). For most, this would be about a cherry-sized amount. Leave for 10 minutes and rinse thoroughly with tepid water. Follow with the Sebu-Lac Lotion and Sebu-ACE oil and/or your usual serums. Use every 3 days or as advised by your Nerd or Nerdette. 
Jenn's Nerdie Bit
Exfoliation is particularly key for those suffering from congestion and this blend of lactic acid and salicylic acid is potent without being overly drying, so long as you ain't over-using it. Remember, over-exfoliation is a skin sin!