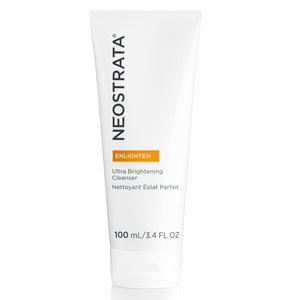 Lovely Product
Really nice cleanser.. nice & creamy on the skin yet doesn't irritate the eyes. Love it
Love this little beauty
Neostrata don't fail with this little tube of gorgeousness. Smells lovely and you only need a little bit to clean off the days make up. Skin feels great afterwards and looks bright 🌞 thanks Neostrata
NeoStrata Enlighten Ultra Brightening Cleanser
Favourite Cleanser
Absolutely love this cleanser. Skin is so bright and beautiful after it. I just wish the bottle was bigger. It's a little pricey for the amount in it compared to other brands.
Neostrata cleanser
I have been using Neostrata Enlighten Ultra brightening cleanser for nearly two years.
I love this product, my skin looks brighter and feels great.
product for nearly 2 years
NeoStrata Enlighten Ultra Brightening Cleanser is a gentle non-drying cleanser removes make-up, dirt, and oil, while brightening and refreshing dull, lacklustre skin.
This pearlescent, creamy cleanser is powered by 6% NeoGlucosamine®, known to exfoliate skin's surface, targeting dark spots that can cause skin to appear uneven and dull. Creamy cleanser develops plush foam to deep clean and reveal naturally radiant skin.
Contains: 
6% NeoGlucosamine® - gently exfoliating 
Perfect for those looking for a brightening cleanser to use alongside their acid treatment cleanser, including those with sensitive skin. 
How to use:
After pre-cleansing, apply to wet skin, gently massaging to a lather, covering the entire face. Rinse with water. Use twice daily.
Ideal for use as an alternate cleanser alongside an acid-based, active cleanser.