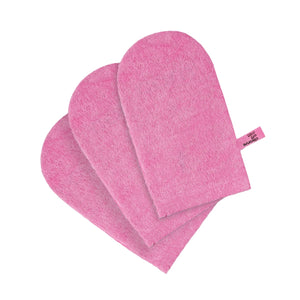 As always, happy with the very effective cleanse off mitts, which I have been using for several years and the prompt delivery service from The Skin Nerd.
Limited Edition Pink Cleanse Off Mitt Weekend Pack (3 Pack)
Love these
I have been using COM for years and will continue to use them. So handy and easy to use
Very pleased with my purchase
Wouldn't use anything else
Go pink every weekend with our pink Cleanse Off Mitt Weekend Pack with 3 individually-packaged pink COMs, saving you €2.50. 

The Cleanse Off Mitt quickly removes all makeup naturally – including mascara. Just add water, gently swipe the mitt across your face and watch as all traces of makeup disappear.
It is ideal as your pre-cleanse option before your active cleanser (as part of a double cleanse).
Place your hand into the Mitt, just add warm water and remove all makeup/pollution etc from the face. Follow with your active cleanser.
Features: 
Reusable 
Suitable for all skin types (even very sensitive skin)
Perfect for all ages and genders 
Ideal for travel, festivals & gym-goers 
Cleanse Off Mitt is Irish and created by The Skin Nerd! 
Remember it is advisable to change your Cleanse Off Mitt every three months and to hand-wash directly after every use using bacterial soap. We recommend that you pop it into the washing machine, inside out, once a week at 30˚ celsius or under.