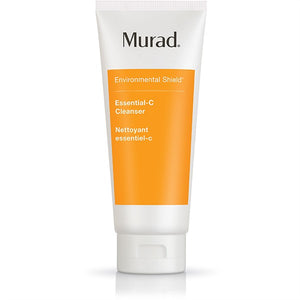 Murad Essential-C Cleanser
Murad Essential-C Cleanser
Murad Essential-C Cleanser
I have not used it long enough to give a long term view, but so far I like it. It does the job of cleansing with no feeling of dryness or irritation after
Murad Essential-C Cleanser
Murad Essential-C Cleanser
I like it very much, love the orange scent. My skin feels really clean and nourished.
The Murad Essential-C Cleanser is from their Environmental Shield range formulated to protect the skin from environmental damage and prevent accelerated ageing. It is a patented antioxidant-rich cleanser using Vitamins A, C and E to neutralise and rehydrate environmentally damaged skin by removing impurities and awakening the senses with a burst of citrus.
Jenn's Nerdie Bit 
The Essential-C Cleanser contains key skingredients A, C and E for skin reparation at a cellular level, brightening and anti-pigment properties and of course for a big old cocktail of potent antioxidants. It also contains phospholipids and sodium PCA, two things found in our skin's own natural moisturising factor (aka the shield our skin creates to keep itself hydrated). 
This cleanser can be used daily and nightly and it is great as an alternate cleanser to an acid-based cleanser. It is a wash formula and fab for a normal to dry skin - to those who are congestion-prone, vitamin C is known to sometimes cause spots so be weary.