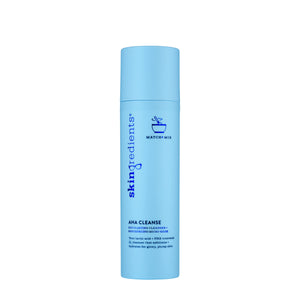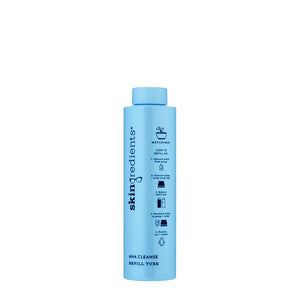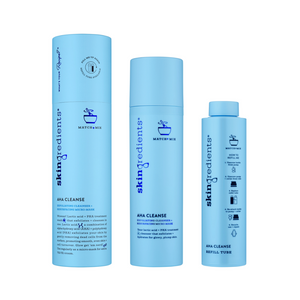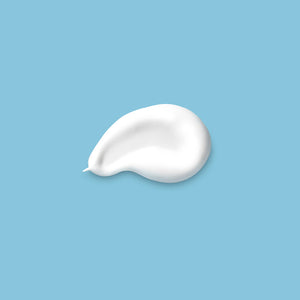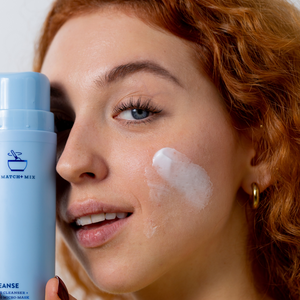 Skingredients AHA Cleanse Brightening and Exfoliating Lactic Acid Cleanser
Love it. It was the missing piece in my routine. It has sorted the rough texture that I was having trouble shifting in no time at all. Amazing product.
Not for me!!.. irritated skin
Used this product twice, first time felt it didn't cleanse my skin & left skin with a waterproof texture (like a primer can) for a good 4/5 days.., second time I left product on my face for a bit longer whilst in shower...my skin felt irritated within 2 mins & needed to apply oil afterwards to soothe my skin... will not be buying this product... (product was received as a complimentary gift with larger order.. so would have much preferred something else,.but suppose at least I hadn't paid for it...
Lainey
Love it, my skin looked instantly brighter
Skingredients AHA Cleanse Brightening and Exfoliating Lactic Acid Cleanser
Don't forget!
The slot-in Refill inner tube clicks into the refillable original primary pack product from our NEW Skingredients refillable range only. You must buy the refillable long-life primary pack first to enable you to pop in your refills! It's skincare that'll do better by your skin + the planet!
AHA Cleanse Brightening and Exfoliating Lactic Acid Cleanser (100ml) is for serving dull, tired + lacklustre skin a wave of skin brightening + hydrating rock star ingredients. AHA Cleanse is your active cleanser + micro-mask that reveals an inner glow + smoother, more even-toned skin as easy as swishing a magic wand. 
Rely on 8% lactic acid and 1% polyhydroxy acid (PHA) to harmonise on brightening + gently exfoliating your skin, while flooding your skin with moisture, which results in a bouncier, plumper complexion. Lactic acid is an alpha-hydroxy acid (AHA) that speeds up cell turnover and exfoliates the skin by gently loosening + sweeping away the dead skin cells that are putting a stop to your glow. 
AHA Cleanse is part of our Match + Mix® range of skincare. They're "add-ons" to your Skingredients core recipe – that's the KeyFour – which work to address your individual skin concerns + help you reach your skin goals. Incorporate our Match + Mix products, into your AM + PM skincare routine when your skin needs it. 
Use AHA Cleanse 2 to 3 times a week, alongside PreProbiotic Cleanse, for luminous, glowing skin. We can't wait to see you glow, glow, glow! 
Rock Star Ingredients: 
Lactic acid:

 an alpha hydroxy acid (AHA) that loosens the bonds keeping dead skin cells attached to the skin, large molecule size for gentle exfoliation, brightening

 

Polyhydroxy acid (PHA):

 a gentler exfoliating acid that has humectant abilities, which means it attracts and retains moisture within the skin for hydrated skin

 
Who Is It For: 
Those with dull, fatigued or lacklustre skin – the blend of lactic acid and a PHA will reveal the skin's inner glow

 

Not for those with super sensitive skin – we always recommend patch testing

 

Suitable for mamas-to-be (suitable for use during pregnancy)

 
Product Claims: 
Dermatologically tested

 

Tested for all skin types

 

Non-comedogenic

 

Cruelty-free

 

Fragrance-free

 
Nerdie tip: Mix 1 pump of AHA Cleanse with 1 pump of PreProbiotic Cleanse for a gentler cleanse. 
How To Use: 
Use PM every 3rd night after pre-cleansing as your treatment cleanse – remember, be careful of your delicate eye area!

 
Pump a coin-sized amount of cleanser into wet palms.

 
Massage into your face using firm, circular, outward motions.

 
After 60 seconds, rinse and remove with hands or the Cleanse Off Mitt®.

 
To use AHA Cleanse as a Micro-Mask: massage AHA Cleanse into cleansed skin, leave for 7 minutes and then remove. We recommend that you do this once a week, maximum. It's 2 products in 1 – we love it just as much as you! 
To refill: 
It's empty? Wow, you must be just as addicted to that glow (in moderation, of course!) as we are. To refill your AHA Cleanse (aka the light blue one) for more, more, more: 
Twist your inner tube out.

 
Twist off the pump and the collar – keep your pump and collar close!

 
Take your refill tube, remove the lid, replace the collar and twist the lid back on. 

 
Screw the inner tube into the outer tube.

 
Away you go, ready to cleanse!

 
Wash, dry + recycle your refill.

 
How To Recycle: 
The outer tube (primary pack): your tube-for-life that's made from resilient, ultra-durable materials that are built to last multiple uses and protect the integrity of the rock star ingredients found within. The primary pack isn't recyclable, but watch this space – we're committed to making our outer tube recyclable within the next 18 months. 
The inner tube (refill): is made from polypropylene (aka PP) and polyethylene (aka PE), both of which are widely recyclable plastics. 
How to recycle your inner tubes: 
Use every last drop of your Skingredients product.

 
Thoroughly rinse the refillable inner tube.

 
Make sure that the refill is completely dry.

 
Pop in your household recycling bin.

 
Feel proud knowing you're getting skin results aplenty + doing your bit for the planet.

 
Cardboard outer tubes: durable and fully recyclable packaging that's made from cardboard – it'll deliver your skincare in style. We use a biodegradable soy-based ink that's easily removed during the de-inking process, which makes our cardboard packaging easily recyclable. 
How to recycle your cardboard outer tubes: pop them into your household recycling bin. 
Full Ingredients List:
Aqua (Water), Lactic Acid , Glycerin , Myristyl Myristate, Glyceryl Stearate, Squalane, Caprlylic/Capric Triglyceride, Ethylhexyl Palmitate, Cetearyl Alcohol, Propanediol, Sodium Hydroxide, Stearic Acid , Gluconolactone, Phenoxyethanol, Xanthan Gum, Caprylyl glycol, Citric Acid