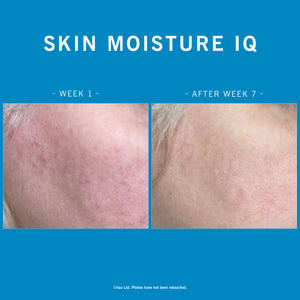 ANP - facelift in a tablet
I love the effect of Advanced Nutrition Programme on my skin - it feels so hydrated, soft to touch and has really helped with my hyperpigmentation too.
Great product
The packaging is so convenient, so much easier than having different bottles of supplements and trying to remember did you take one today!! In saying that I am in my mid 50s and I think my skin looks so much brighter and better. It certainly feels great so I will continue to use this product.
Advanced Nutrition Programme Skin Moisture IQ is your 28 day smart supplement system providing super-charged moisture for your face and body. The Skin Moisture IQ pods work to provide multi-layered skin hydration for smooth, hydrated supple and radiant skin.
WHO IT'S FOR
Ideal for hoomans with dry and dehydrated skin 
HERO INGREDIENTS
(Per daily pod)
Skin Omegas+ (x2)
Skin Moisture Lock
Skin Vit A+
Skin Vitality
Containing a combo of vitamin A, omega-3 fatty acids, hyaluronic acid, ceramides, niacinamide, vitamin D and vitamin C. 
HOW TO USE
Take all capsules within one individual pod daily. 
Skin Vit A+ is not recommended during pregnancy.