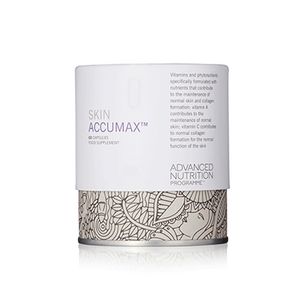 Advanced Nutrition Programme Skin Accumax (60 Capsules)
These tablets are life changing
I have suffered with bad acne my face was sore with hard pimples after using these tablets I have had fewer breakouts and my pimples I do get are not painful and alot smaller in size. Thank you skin accumax you have forever changed my life and my skin confidence
Advanced Nutrition Programme Skin Accumax (60 Capsules)
Game changer
I was very cynical of trying these as I've never found any over the counter medicine or supplements to be of any help to my acne, but eventually I gave them a go. I've been using them for 9 weeks now and I think I've finally found something that will help to control my spots without antibiotics, I'm fully invested! As a bonus, I think they've been having an impact on my hair and nails, both are looking better recently!
Really has helped
Ever since I've bought skin accumax, I've noticed a big difference in my skin.
Skin Accumax™ is a brand new, scientifically advanced, nutritional supplement which works from within for clear, flawless skin naturally. Skin Accumax™ has a unique formula containing the ground-breaking and skin-perfecting ingredient DIM (a patented, highly active plant compound), as well as other complexion enhancing active ingredients. Contains 60 capsules.
 Vegan-friendly
 Not suitable for use during pregnancy
Jenn's Nerdie Bit
Accumax contains vitamin A, E and C, which help to maintain normal skin, as well as a phytonutrient known as DIM. It is a game-changer and zaps blemishes from the inside.
It is recommended that you stay on a starter dose of 2 capsules in the morning and 2 capsules in the evening for at least 14 weeks and then take a maintenance dose of 2 a day thereafter!