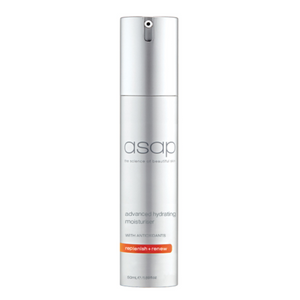 ASAP Skincare Advanced Hydrating Moisturiser
Encouraging 1st few weeks
It's only been a few weeks since I started using these products and I can feel and see a difference! My skin feels softer, looks brighter and more hydrated. The smell is beautiful - you can literally smell the Vit C on your face!
ASAP Skincare Advanced Hydrating Moisturiser
Great product
It's easily absorbed by skin, smells great (citrus scent) and actually works. Skin feels brighter and plumper after use.
Excellent moisturiser, hydrating, leaving skin soft
Note: We are unable to ship ASAP Skincare products outside of Ireland and the UK.
The Asap Skincare Advanced Hydrating Moisturiser replenishes moisture levels and re-energises skin cells. With powerful antioxidants, Vitamin C, CoEnzyme Q10, Green Tea, Noni Fruit and Ceramides to help prevent free radical damage and reduce the visible signs of skin ageing.  
It's a lightweight formulation that works over time to reduce the appearance of fine lines, wrinkles and sun damage. 
Contains: 
Vitamin C: potent antioxidant, assists in stimulating collagen production
CoEnzyme Q10: potent antioxidant, plays a role in cellular energy in the body, strengthens capilalry network
Green Tea: potent antioxidant, anti-inflammatory
Ceramides: for hydration, healing and improved barrier function 
Ideal for dry and normal skin, but not the best for congested or acne-prone skin! 
Apply an acorn-sized amount from the nipples up AM & PM to clean, dry skin.