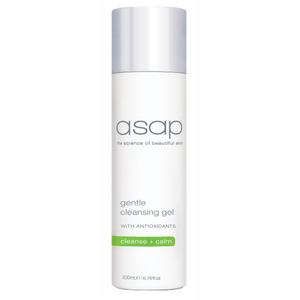 Key ingredients
Aloe Vera: soothing, hydrating
White Tea: antioxidant, soothing
Grapefruit Peel Oil
Orange Peel Oil
Lather a chickpea-sized amount in moistened hands and massage onto damp face and neck for a minute. Rinse thoroughly with water or remove with your Cleanse Off Mitt.
ASAP Skincare Gentle Cleansing Gel
ASAP Skincare Gentle Cleansing Gel
Really nice cleanser, doesn't feel at all astringent or dry. A little goes a long way. And smells nice too, not too perfumed.
ASAP Skincare Gentle Cleansing Gel
Amazingly silky with hydrating results
The gel becomes very silky on the skin once water is added. It leaves the skin hydrated with a nice glow. No feeling of tightness which I love.
Note: We are unable to ship ASAP Skincare products outside of Ireland and the UK.
ASAP Skincare Gentle Cleansing Gel is a mild "inactive" cleanser formulated to gently and thoroughly cleanse the skin of makeup and impurities in one step, while maintaining the skin's natural moisture balance. Contains powerful antioxidant White Tea and healing Aloe Vera to calm and soothe.
It's a soap-free cleanser that removes makeup and excess oil for clean (but not over-cleansed) skin. Suitable for all skin types including sensitive skin. 
Vegan-friendly, cruelty-free and pregnancy-safe.