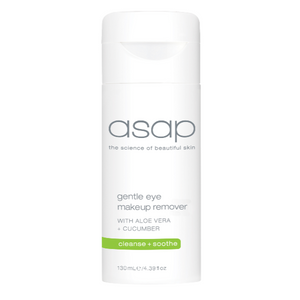 Key ingredients
Aloe Vera: hydrating, soothing
Cucumber: hydrating, soothing
Apply a small amount to your Cleanse Off Mitt and gently wipe over eyes. Rinse if desired. May also be used as a refreshing eye compress for tired or puffy eyes.
ASAP Skincare Gentle Eye Make Up Remover
Very gentle
Great packaging. I do need to remove eye make up with COM and cleanser first and then I go in with this remover to take away any leftover make up. Gentle, doesn't irritate. Not strong enough to use just on its own.
Very Soothing
I suffer from small spots around my eyelids but since I started using this product I haven't gotten one. Using it now over 3 months.
Note: We are unable to ship ASAP Skincare products outside of Ireland and the UK.
ASAP Skincare Gentle Eye Make Up Remover gently and thoroughly removes eye makeup without irritation. Enriched with soothing Aloe Vera and calming Cucumber to leave skin feeling clean and refreshed. Can be used to remove lip colour and gentle enough to cleanse eyelash extensions. 
Protects skin from pollution, super gentle and suitable for all skin types.
Perfect for the type of eye makeup that needs something truly heavy duty, especially when used with your Cleanse Off Mitt.
Vegan-friendly, cruelty-free, pregnancy-safe and gluten-free.