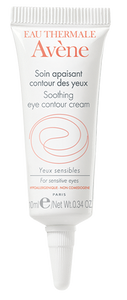 Avéne Soothing Eye Contour Cream
Sorted a burn out
I burned my eyes opening a BBQ and this really helped to soothe and heal it without making it reactive.
Serious reaction to
I was recommended this product for dry skin and irritation on eyelid. Unfortunately within 20 minutes of using whole eye swelled up, very hot, red, inflamed for about a week. 😢
Hello Layla - so sorry to hear this eye-cream did not work for you. If you would like to reach out to us at hello@theskinnerd.com, we would be happy to recommend you an alternative. x
Eye Cream
This eye cream is excellent - very easy to apply melts in easily also great for sensitive eyes.
Avéne Soothing Eye Contour Cream is a fantastic eye cream for hoomans who have dry, itchy skin around their eyes.
MOISTURISING - Formula enriched in moisturisers protects the eye contour area and the eyelids
EFFECTIVE - Soothes sensitive eyelids and gives your skin a wonderful feeling of lightness
SOOTHING - Avène Thermal Spring Water contained in the formula reduces irritations, tightness and redness of the eye contour area