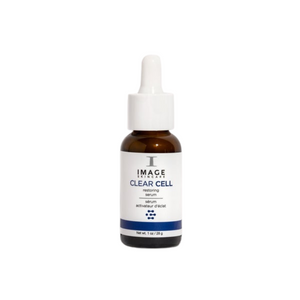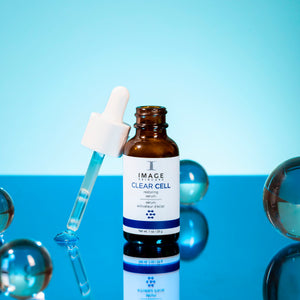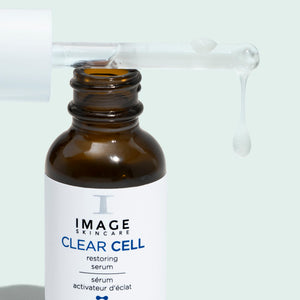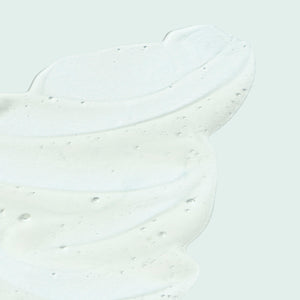 Aqua (Water / Eau), Glycerin, Oligopeptide-10, Stearyl Glycyrrhetinate, Camellia Sinensis Leaf, Sodium Hydroxide, Aloe Barbadensis Leaf Juice (Organic), Boswellia Serrata Extract, Honey Extract, Oryza Sativa (Rice) Bran Extract, Portulaca Oleracea Extract, Pyridoxine Cyclic Phosphate, Hydroxyethyl Urea, Lavandula Angustifolia (Lavender), Hexylene Glycol, Silica, Phenoxyethanol, Butylene Glycol, Acrylates / C10-30 Alkyl Acrylate Crosspolymer, Allantoin, Xanthan Gum, Disodium Edta, Ethylhexylglycerin.

For an accurate listing of ingredients in each product, please refer to your product packaging.
IMAGE Clear Cell Restoring Serum (28g)
IMAGE Clear Cell Restoring Serum (28g)
Love this product!
I used this product then switched to a different serum just to try other products but ended up going back to Image Clear Restoring Serum - no breakouts and skin really clear
Congestion no more
Absolutely brilliant product. I can't recommend it enough. I had congestion on my forehead (little skin coloured bumps) on my forehead for YEARS. I tried everything to get rid of them, I thought it might have been something I was eating. Then, I tried this serum. 2 weeks later, they were gone and I have been using it ever since. Absolute must have !
IMAGE Clear Cell Restoring Serum (28g)
This serum is oil-free, lightweight and moisturising, helpful in soothing skin, and absorbs surface oils for a mattifying effect. Vitamin B6 derivative helps to restore skin's overall healthy balance by visually minimizing pore size, shine and sebum production while botanicals reduce the appearance of irritation and inflammation.
This serum contains:
Granactive acne (oligopeptide-10, boswellia serrata extract and honey extract), a patented complex to help to combat the symptoms of acne
Mentha viridis (spearmint) leaf oil, to help exfoliate skin
Aloe barbadensis leaf juice, for skin soothing
Net-DG (liquorice extract), a potent antioxidant

Especially suitable for oily or spot-prone hoomans. Also suirtable for irritated skin, sensitive skin, and post-treatment skin.

Jenn's Nerdie Bit 
This serum contains aloe extract, a known soothing ingredient, to cool down red, sore spots, and green tea extract for antioxidant protection. This doesn't contain any salicylic acid and is oil-free. It is not a tacky, sticky serum, it's quite smooth. 
It will help with oil control and minimise the appearance of pores so it is perfect for those of us who are oily and spot-prone. 
Like all serums, you need three drops per use, one on your forehead and one on each cheek. Dependent on usage, this will last you around 8 weeks. 
Please note that this product contains honey extract which is animal-derived.
Paraben free.