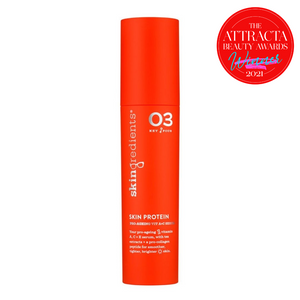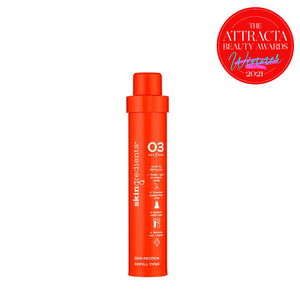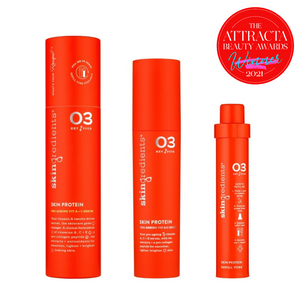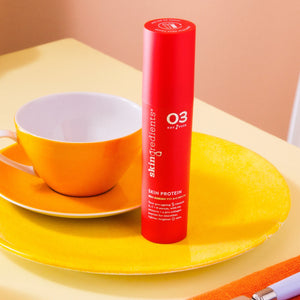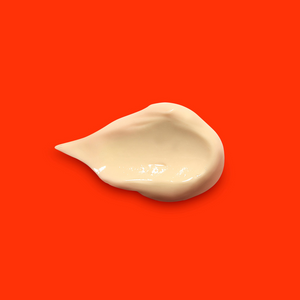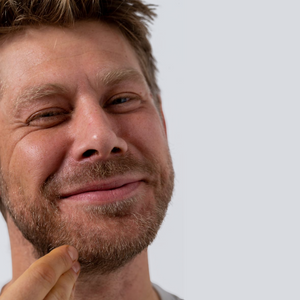 The jury is out
I'm not 100%sure yet as I've been easing into it but I am getting spots on my forehead so I've stopped for a few days as I'm on homiday
Fantastic product
Slightly drying on the skin when used am and pm, prefer skin fats am and this pm, works best for me I have Norma/dry skin,
Thank you so much for taking the time to leave a review.
We recommend using Skin Protein Serum AM & PM. You should apply an SPF on top in the morning and Good Fats would be perfect over it in the evening ❤
Skingredients Skin Protein Anti-Ageing Retinoid Serum
It's really a lovely product to use. I really feel the difference already
Great product
I have repurchased many times and my husband also uses it. Skin looks and feels great. Love the refill option also
Don't forget!
The slot-in Refill inner tube clicks into the refillable original primary pack product from our NEW Skingredients refillable range only. You must buy the refillable long-life primary pack first to enable you to pop in your refills! It's skincare that'll do better by your skin + the planet!
Skingredients Skin Protein Anti-Ageing Retinoid Serum (45ml) is your skincare gamechanger – a lightweight, pro-ageing vitamin A, C + E serum. Like a genie (in a red bottle), Skin Protein grants 3 wishes: tighter, brighter + smoother skin. It's creamy, hydrating serum to be slathered on your face, eyes, neck + chest! 
Protein gives your body the strength it needs, and Skin Protein's rock star ingredient, retinyl palmitate (read: the fatty form of vitamin A that's much gentler on the skin), works to maintain strong + healthy skin. Retinyl palmitate, accompanied by beta carotene (a precursor to vitamin A), promises to speed up cell renewal + re-educate the skin for regeneration station. 
Our Skin Protein also contains a pro-collagen peptide to plump fine lines + wrinkles, vitamins C + E, which are powerful antioxidants that help to neutralise the ageing effects of free radical activity, and skin-soothing rooibos tea + green tea extract for added antioxidant goodness – because you can never have enough! 
Skin Protein is the 03® in the KeyFour product range. Use it in the AM + PM to tackle a line-up of skin concerns, including dullness, lines and wrinkles, lax skin, dark circles, blackheads, whiteheads, lumps, bumps, large pores and excessive oiliness. Vitamin A is a skincare hero and we guarantee that your results will be noticed! It's progressive enough for daily use, yet effective so you can quickly achieve noticeable results. 
Please note that you need to purchase a primary pack for each product if this is your first purchase as the refill tubes do not come with pumps.
Rock Star Ingredients: 
Vitamin A (retinyl palmitate): 

the fatty form of vitamin A that speeds up skin cell renewal for pro-ageing benefits in a progressive manner

 

Beta carotene:

 a precursor to vitamin A with antioxidant benefits 

 

Clinically-proven pro-collagen peptide:

 reduces the depth + appearance of fine lines and wrinkles for smoother + plumper skin

 

Vitamin C (ascorbic acid + ascorbyl palmitate) + vitamin E:

 potent antioxidants that help to protect the skin from environmental damage

 
Rooibos tea extract + green tea extract:

 an extra serving of potent antioxidants to defend the skin from damaging free radicals

 

Sunflower seed oil: 

a hydrating ingredient rich in fatty acids

 
Who Is It For: 
All hoomans – apart from mamas-to-be, breastfeeding mamas, and those using prescribed vitamin A drugs

 

Those looking to tackle fine lines and wrinkles – vitamin A + our pro-collagen peptide work by stimulating the production of collagen and elastin for firmer, bouncier skin

 
Those looking to reduce the appearance of open (large) pores – vitamin A helps to inhibit the degradation of collagen and elastin, the skin's structural proteins

 

Those looking to improve their skin texture – Skin Protein contains the ideal blend of nutrients to assist the skin in optimising its own renewal process for smoother, more even skin

 

Those with oily skin and or congestion – vitamin A helps to regulate sebum production to prevent excess oiliness

 

Those with dry or dehydrated skin – thanks to the hydrating, fatty acid rich sunflower seed oil

 
Product Claims: 
Dermatologically tested

 

Tested for use around eyes

 

Suitable for all skin types

 

Not suitable for mamas-to-be (not recommended for use during pregnancy)

 

Fragrance-free – because smells don't change cells®

 
Nerdie tip: Combine 1 pump of Skin Veg + 1 pump of Skin Protein together for best results, and smooth onto damp skin post-cleanse! 
How To Use: 
Apply post-cleanse AM + PM.

 
Apply 1 pump to skin from the nipples up.

 
Smooth into the skin – and don't forget to bring it all the way up around eyeballs (but not into them) in lieu of an eye cream.

 
How To Refill: 
After falling in love with 03® (aka the red one) and using every last drop, you'll want to top up on the brightening goodness of our pre-serum + penetrant-enhancer. 
To begin, twist your inner tube out. 

 
Twist off the pump - remember to keep your pump close! 

 
Take your refill tube, remove the lid and twist the lid back on. 

 
Screw the inner tube into the outer tube.

 
Apply our addictive, regenerating serum.

 
Wash, dry + recycle your refill!

 
How To Recycle: 
The outer tube (primary pack): your tube-for-life that's made from resilient, ultra-durable materials that are built to last multiple uses and protect the integrity of the rock star ingredients found within. The primary pack isn't recyclable, but watch this space – we're committed to making our outer tube recyclable within the next 18 months. 
The inner tube (refill): is made from polypropylene (aka PP) and polyethylene (aka PE), both of which are widely recyclable plastics. 
How to recycle your inner tubes: 
Use every last drop of your Skingredients product.

 
Thoroughly rinse the refillable inner tube.

 
Make sure that the refill is completely dry.

 
Pop in your household recycling bin.

 
Feel happy knowing you're getting skin results aplenty + doing your bit for the planet.

 
Cardboard outer tubes: durable and fully recyclable packaging that's made from cardboard it delivers your skincare in style. We use a biodegradable soy-based ink that's easily removed during the de-inking process, which makes our cardboard packaging easily recyclable. 
How to recycle your cardboard outer tubes: pop them in your household recycling bin.