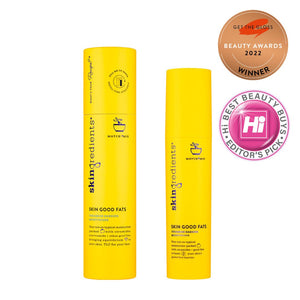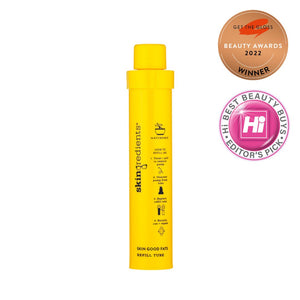 Skin Good Fats Ultra-Hydrating Ceramide Moisturiser
would definitely recommend
feels lovey on the skin and helps with dry patches.
Skin Good Fats Ultra-Hydrating Ceramide Moisturiser
Skin Good Fats Ultra-Hydrating Ceramide Moisturiser
Don't forget!
The slot-in Refill inner tube clicks into the refillable original primary pack product from our NEW Skingredients refillable range only. You must buy the refillable long-life primary pack first to enable you to pop in your refills! It's skincare that'll do better by your skin + the planet!
Ditch dryness, kick the itch + bring balance to skin anarchy with Skin Good Fats Ultra-Hydrating Ceramide Moisturiser (45ml) – a butter soft barrier balm that melts into skin and doubles as a rich moisturiser + night cream in one. 
A nourishing + comforting hug to skin that's irritated or sensitive, Skin Good Fats is brimming with just that: good fats. Containing skin-native ceramide NP (a fatty molecule) to fortify the skin barrier + retain moisture within the skin, as well as shea butter glycerides to moisturise and a clinically-proven, patented anti-irritation ingredient to soothe + calm those itchy sensations – kudos to oat kernel extract! Of course, potent antioxidants in the form of niacinamide (vitamin B3) and vitamin E aren't to be forgotten – combating those pesky free radicals is an all-important task. 

Skin Good Fats is part of our Match + Mix range of skincare. They're "add-ons" to your Skingredients core recipe – that's the Key 4 – which work to address your individual skin concerns + help you reach your skin goals. Incorporate our Match + Mix products, into your AM + PM skincare routine when your skin needs it. 
Healing + hydrating with anti-inflammatory properties to boot, our ceramide-rich barrier balm gives back to the skin when you're using acids or retinols. Replenishing your skin with essential fats, vitamins and goodness, Skin Good Fats restores equilibrium to sensitive and reactive skin. 
Please note that you need to purchase a primary pack for each product if this is your first purchase as the refill tubes do not come with pumps.
Rock Star Ingredients: 
Ceramide NP

: a lipid (aka fatty molecule) that's naturally occurring in our skin, Skin Good Fats gives back you're missing 

 

Shea butter glycerides:

 a moisturising ingredient derived from shea butter fatty acids, but without a greasy finish or pore-clogging texture

 

Avena sativa (oat) kernel extract:

 a clinically-proven anti-irritant with antihistamine properties

 
Vitis vinifera (grape) seed oil

: a moisturising oil with antioxidant properties

 

Niacinamide (vitamin B3) and vitamin E:

 potent antioxidants to fight free radical damage

 
Who It's For: 
Those who love a creamy moisturiser – this comforting product is luxuriously fat-filled, yet non-greasy

 

Those with irritated, itchy, red or flaky skin – boosts your skin barrier and helps to stop itchiness

 
Those with very dry skin – oils to take the place of those oils your skin is lacking

 

Those who need extra hydration in the winter months – that includes oily-skinned hoomans too, cold winds and drying central heating can take their toll

 
Product Claims: 
Dermatologically tested

 

Tested for use around the eyes  

 
Tested on dry + dehydrated skin

 

Non-comedogenic

 

Cruelty-free

 

Fragrance-free

 

Suitable for mamas-to-be (suitable for use during pregnancy)

 
Nerdie tip: Apply to any particularly dry areas of skin, around elbows, knees, etc! For extra hydration apply Skin Good Fats for 20 minutes and remove thoroughly for a comforting, soothing micro-mask. 
How To Use: 
Use PM after the skin is cleansed and serum-ed (can also be used in the AM prior to Skin Shield SPF 50 PA+++ for extra hydration).

 
Apply one pump from the nipples up.

 
Spread gently on all affected areas and across skin in sweeping, outwards motions.

 
Skin Good Fats can also be used in the AM for extra skin balance and moisture. 
How To Refill: 
Skin Good Fats (aka the yellow one) is meant to be generously slathered onto skin – so don't feel guilty when it's long gone. To refill: 
To begin, twist your inner tube out.  

 
Twist off the pump and keep your pump! 

 
Take your refill tube, remove the lid and twist the lid back on.  

 
Screw the inner tube into the outer tube and away you go.

 
Wash, dry + recycle your refill.

 
How To Recycle: 
The outer tube (primary pack): your tube-for-life that's made from resilient, ultra-durable materials that are built to last multiple uses and protect the integrity of the rock star ingredients found within. The primary pack isn't recyclable, but watch this space – we're committed to making our outer tube recyclable within the next 18 months. 
The inner tube (refill): is made from polypropylene (aka PP) and polyethylene (aka PE), both of which are widely recyclable plastics. 
How to recycle your inner tubes: 
Use every last drop of your Skingredients product.

 
Thoroughly rinse the refillable inner tube.

 
Make sure that the refill is completely dry.

 
Pop in your household recycling bin.

 
Feel proud knowing you're getting skin results aplenty + doing your bit for the planet.

 
Cardboard outer tubes: durable and fully recyclable packaging that's made from cardboard – it'll deliver your skincare in style. We use a biodegradable soy-based ink that's easily removed during the de-inking process, which makes our cardboard packaging easily recyclable. 
How to recycle your cardboard outer tubes: pop them into your household recycling bin.