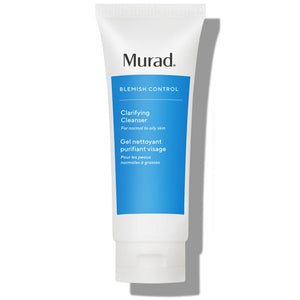 Cleanses, clears pores and treats blemishes — even after rinsing.
Helps dissolve excess oil, purify pores, and clear and prevent future breakouts. Two types of salicylic acid treats acne immediately and over time.
200ml
Description
The ultimate gel cleanser that helps dissolve excess oil, purify pores, clear acne-causing bacteria, and treat existing blemishes while preventing new acne breakouts. Murad's Clarifying Cleanser is formulated with two types of salicylic acid—a free form that starts to unclog pores immediately and an encapsulated form that continues sloughing off dead skin cells even after rinsing. Green tea extract helps soothe and calm irritation for clear, healthy skin. In a 3-day clinical study, 97% said our acne face wash dissolves excess oil, 94% said it deeply cleanses skin, 88% said it improves skin's overall appearance and 85% said it leaves pores feeling clean of impurities. Our acne cleanser is perfect for oily skin with visible shine. It effectively clears acne while preserving the skin barrier.
*With acne regimen and daily use.