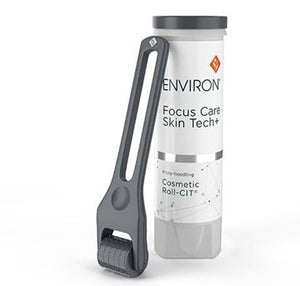 Environ Cosmetic Roll-CIT
Environ Cosmetic Roll-CIT
Wow!
I was a little skeptical at first, but after the first roll my skin looked great. Its an easy addition to the evening routine and feels like it will be a great long term investment.
Want to order Environ but aren't a consultation client? Chat with our team between 9AM - 5PM Monday to Friday to discuss Environ, if it's suitable for you and get access to this this product.
Environ Cosmetic Roll-CITª (Collagen Induction Therapy) is a hand held needling device designed to dramatically increase the effectiveness of Environ skin care products by allowing improved penetration of vitamins into the active layers of the skin. 
It can help to enhance the ability of your serums to penetrate your skin, and can help your skincare products to be more effective. It can also help to diminish the appearance of fine lines and wrinkles, and help to improve skin tone and texture, as well as helping to diminish the appearance of pigmentation. 
It's suitable for use when acclimated to Environ Skin EssentiA AVST Moisturiser 2. If you have any questions, do get in touch with your Nerd or Nerdette for personalised advice.